As a consequence of our addiction to fast fashion, Australia sends approximately 800,000 tonnes of textile waste to landfill each year and is the second-highest consumer of fabric per person in the world, trailing only the US.
But the three founders behind fashion-tech Citizen Wolf are on a mission to disrupt the industry through a made-to-order model that has been able to scale thanks to an algorithm known as MagicFit.
Taking a customer's age, weight and height (plus bra size for women), the brand's technology is able to achieve a 94 per cent strike rate when it comes to creating the perfectly fitting T-shirt.
The Sydney-based company has proven to be a hit with environmentally conscious consumers, generating more than $3.5 million in sales and selling 50,000-plus tees since launching six years ago.
Speaking to Business News Australia, Citizen Wolf co-founder Zoltan Csaki discussed some of the problems driving one of the most wasteful industries in modern society.
"One in three pieces of clothing made every year goes to landfill unsold. That structural waste is a direct result of brands' guessing. Inaccurate forecasting is the basis for trillions of dollars of manufacturing decisions around the world," said Csaki, who built the company alongside Eric Phu and Rahul Mooray.
"No one can predict the future. All brands basically think that they know what's going to happen, put huge amounts of money into stock and then effectively cross their fingers and hope.
"The business of fashion is insane and it's got to change because it's contributing climate change."
As a far cry from the current 600sqm factory in Marrickville, the venture began in early 2016 with just Csaki and Phu working out of a small Darlinghurst shop hand-measuring and cutting T-shirts for customers.
By the time they'd produced 2,000 garments the pair had the data at their disposal to take the idea to the next level, utilising their improved understanding of how clothing should fit on the body. The next step was to enlist Mooray, who would become Citizen Wolf's third co-founder.
"There are quite a few publicly available data sets which have skin measurements of people. It's got every single point you could think of on the body…the chest, skull, hips, waist, knee, knee height, and ankle. All of those points can be put together and turned into a very extensive dataset," Mooray explained.
"When you combine a data set of how a T-Shirt should fit on a body with 196 million data points of actual body measurements - it all adds up very quickly."
"As a design principle, we always want to make things easy for the customer. We knew we didn't want to make someone go through the arduous process of either [taking] measurements or answering 17 questions or submitting photography - things that don't give you a good taste in your mouth."
Csaki noted Citizen Wolf also branched out into making polo shirts and sweaters using MagicFit, and was looking to roll out sweatpants as well.
"We've always been underestimated by the wider fashion industry and most people we've ever met because we're often labelled those crazy guys making custom-fit T-shirts," he said.
"But from day one Eric and I have been very clear that this is about proving a better model for the fashion industry and for the way that clothes are made at scale. T-shirts were only ever the proof of concept for the technology."
Although the founders searched across Sydney looking for a supplier willing to adapt to their made-to-order process, Csaki said the company resorted to establishing its own factory certified by Ethical Clothing Australia when the hunt yielded no results.
"We had to create the factory to facilitate the value that we always knew was there in the technology. Those two things are like hand in glove - they go together and really can't be disassembled," he said.
"In regular mass-production garment factories, they have these enormously long tables - probably 30 meters long - with hundreds of layers of fabric. They use huge jigsaws to cut out panels and you end up with a stack two feet high. It then gets given to the team of seamstresses and a woman sows 1,000 sleeve panels that day - nothing else."
According to UK-based research institute Ellen MacArthur Foundation, the global fashion industry is responsible for 10 per cent of annual carbon emissions - more than all international flights and maritime shipping combined. At the current growth rate, the industry's greenhouse gas emissions will surge more than 50 per cent by 2030.
"Our model is really different – we have a laser cutter and one person take the whole garment through production from start to finish. In the end, it's been one of the best things we've ever done because it enables us to have visibility on every single sub-process that goes into making a garment," Csaki said.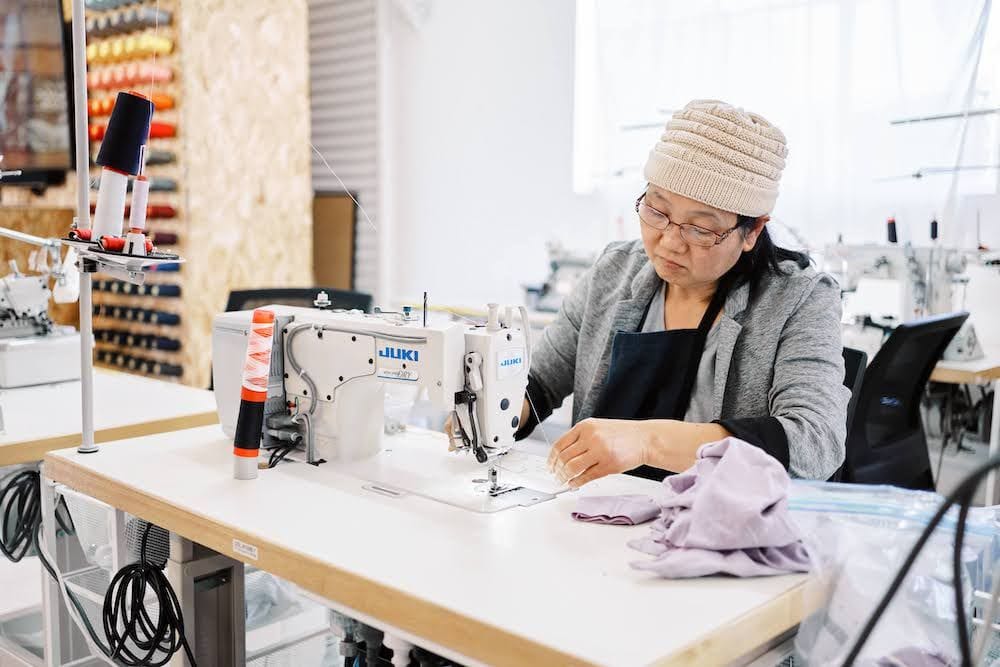 While 86 per cent of Citizen Wolf's fabric is knitted in Melbourne, the remaining 14 per cent comes from China as the company has been unable to find alternative domestic suppliers of hemp in Australia. The local production process is audited by the company, which used the findings in 2019 to offset its 30-tonne carbon footprint via the New Leaf Project - a Tasmanian biodiversity project that aims to rewild 27,390 hectares of the forest back into a wildlife habitat that had previously been used for commercial forestry.
In November 2020, the brand gained B-Corp certification and reached an impressive impact score of 100.1 points. To put that into perspective, the median score for an ordinary business is 50.9, while companies which score 80 or higher are qualified for B Corp approval.
"We're very proud about keeping as much business and money here in the Australian economy as we can and supporting the local supply chain because there's really very few players left," Csaki said.
"We lost a lot of our textile manufacturing base when the tariffs got cut in the 80s. We believe what's left shouldn't also disappear."
The fashion-tech is now looking to triple its current output from 2,000 units to 6,000 units a month over the next 12 months, in addition to reducing its average production time from seven days to five.
To fund the ambition, Citizen Wolf launched an equity crowdfunding campaign on Birchal and has secured more than $262,000 from 147 investors at the time of writing. The company is aiming to raise a maximum of $1.25 million in the next two weeks.
"We have all the learnings of the Australian consumer and the first step for international expansion will be taking that information into markets like the UK, US, New Zealand and possibly Canada," Mooray said.
He also explained the funding held the potential to lower Citizen Wolf's price point and increase accessibility.
"We are painfully aware of our price point. However, we're also proud of what we can deliver at that price point. With the efficiencies we get in the factory alongside all of this investment - we do intend to use that to drive down price to make it a bit more accessible," Mooray said.
"It is important to note a lot of the prices people have gotten used to - especially with fast fashion - is not a fair price. It's at the cost of the makers. Fashion is the second most at-risk industry to modern day slavery.
"There's a lot of bad in the industry and the prices are possible because of that bad. We won't ever be able to release and we don't plan to release a $10 T-shirt."
Get our daily business news
Sign up to our free email news updates.
Help us deliver quality journalism to you.
As a free and independent news site providing daily updates
during a period of unprecedented challenges for businesses everywhere
we call on your support