It's been five years on the board of Go1, and last month they entered the unicorn club in Australia after raising US$200 million (AUD$273 million) from Softbank and others.
The Aussie startup space is humming. Each week there are new announcements on fundraising. Even better, we are seeing exits as well in this space giving investors and, even better for the future, employee liquidity moments.
As one of Australia's latest unicorns, Go1 is one of an even smaller bunch to not be headquartered in Sydney or Melbourne.
I first met Go1 in February 2015. They'd just gone through Y Combinator (arguably the best accelerator program in the US) and had some early traction with their business software tool, goCatalyze, and a Learning Management System, Aduro, which ultimately evolved into the GO1 we know today. I ventured out to Logan - on the outskirts of Brisbane - and met them in their space above a local hairdresser.
Let's talk about five lessons I've learned after sitting on the Go1 board over the last several years.
On teams and equity
A lawyer, a Rhodes Scholar, a GP, and an IT guy walk into the office of a local early-stage investor.
I have grown to understand that you need to back smart teams. If the founders have incentives to win then your capital is in far better hands. I've also learned it's OK to leave some cash on the table in favour of ensuring the founders have enough skin in the game.
On hiring...and firing
It's not just smart founders but also their ability to be magnets for talent attracting and surrounding themselves with strong advisors, managers and executives. Some of Go1's early hires were exceptional, but over the years from my position on the board, I've also witnessed when those people no longer grew with the company they were moved on; these were hard decisions and no one ever arrives at the call to separate an employee easily, but it was tough decisions like these that contributed to where Go1 is now.
Aside from their education, what made them really smart was their ability to look closer and harder at what they were doing - constantly looking to see if their management decisions were right.
Using great tech to deploy telemetry into their business and especially their sales funnels, and then making the hard decisions in a timely manner, is something that has set this team apart from the very beginning.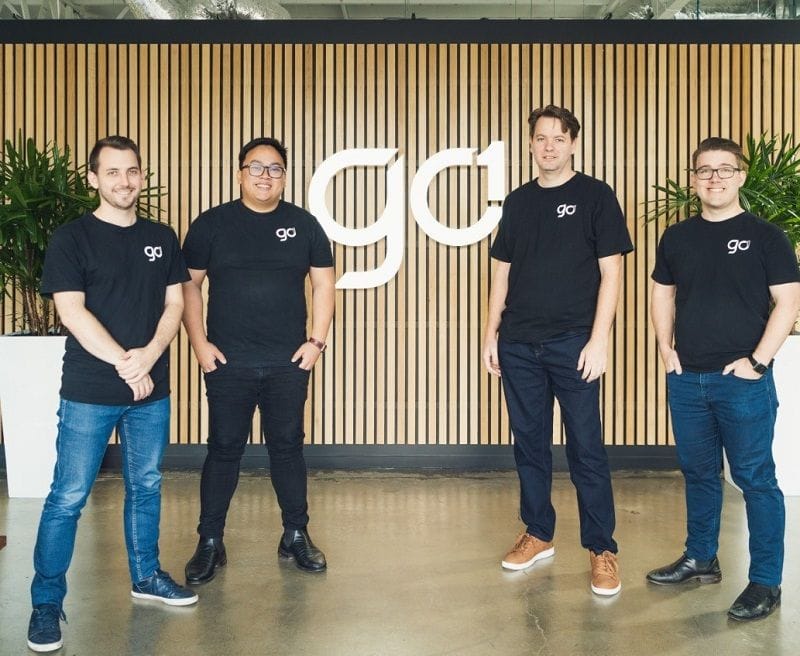 Go1 co-founders (L-R) Chris Eigeland, Vu Tran, Chris Hood and Andrew Barnes.
On telemetry
At its base level, this is the integrated inclusions of automated reportable metrics into the sales and customer success pipeline. Whilst this seems like it makes sense and everybody 'knows how' to do this, it is rare to see it actually done in such a complete manner.
It's as if the sales process was designed on top of the telemetry and not retrofitted after. Telemetry produces data and that is of no use unless its insights are acted upon.
That means building on a foundation of data and insights to garner key infrastructure pieces, and then using those decisions to execute heavily on sales, hiring, and yes, firing.
The Go1 team used this to great effect with their market entry into the US. Early attempts to understand the US market were met with subpar commercial success, after too long in the planning phase.
We knew this because the data from the core sales processes was telling us this. We could see the lack of traction and top-line profit from the various approaches to this massive market from these clues, so we changed the process, market segment, people, and more until we got it right.
On launching into the US
Go1 shaped my approach to how startups with some Australian traction should treat overseas markets, and the US in particular. They should plan fast, go hard and go now. Planning should be measured in weeks that can be counted on one hand.
Time is of the essence. Thinking your product will be successful in a new market on the first or second try (even one like the US that is superficially similar to our own) is doubtful. The cost of waiting to get into that market is all time that you will never get back. Both approaches cost you, but one can cost way less time, and time is gold.
On headquarters
The Go1 team was made of schoolmates. Networks matter.
Awesome companies can happen from anywhere there is a supply of labour. Go1 was started and is still proudly headquartered in Logan, south of Brisbane. This goes to show that whilst the centres of San Francisco or Sydney might be alluring destinations, success can happen from anywhere.
Well done Andrew, Chris, Vu & Chris. Despite some turbulence, the plane is rocketing to its destination.
This article was originally published on TEN13's Medium page, and was republished with Steve Baxter's permission.
Get our daily business news
Sign up to our free email news updates.