Within three months of the Federal Government announcing it would put $150 million towards NASA's "Moon to Mars" program, Gold Coast-based Gilmour Space Technologies has reached a major deal with the Australian Space Agency.
Gilmour, which has developed its own 'One Vision' suborbital rocket to deliver satellite payloads into space, has signed a Statement of Strategic Intent and Cooperation with the agency.
The company aims to launch its small satellites into low earth orbits by 2022, and in the last 2.5 years has successfully test-fired its proprietary hybrid rocket engine to a record 80 kilonewtons of thrust.
The Aussie space tech has also completed testing a semi-autonomous mobile launch platform in rural Queensland, raised two rounds of venture capital funding and tripled its team to 45 employees on the Gold Coast.
Gilmour Space Technologies CEO Adam Gilmour says the company is proud to be a leader in the development of rocket technologies, but it understands the crucial need to work with Government and industry.
"Growing the Australian space industry together is vital to its long term success," says Gilmour, who also sits in the Agency's Space Industry Leaders Forum.
"We recognise our responsibilities as a leading domestic space company, and today's signing documents our intention to help grow a sustainable space ecosystem in Australia and provide world-class launch capabilities to the world's growing small satellite industry."
"There's a lot of work yet to be done, many more opportunities to be explored, and we certainly look forward to growing the space industry here, together."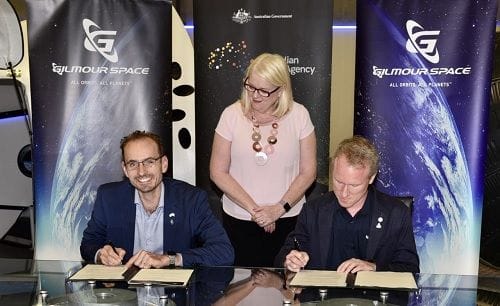 Australian Space Agency deputy head Anthony Murfett (left) and Gilmour Space Tech CEO Adam Gilmour (right) sign the agreement in the presence of Minister for Industry, Science and Technology Karen Andrews.
Minister for Industry, Science and Technology Karen Andrews says the agreement highlights the exciting developments underway in the Australian space sector - an industry she has previously predicted will grow to be worth $12 billion.
"This new partnership shows the breadth of capabilities being developed in Australia, supporting our mission to develop and grow the Australian space industry over the next ten years," says Andrews.
"Gilmour Space is an innovative local company attracting significant investment and overseas attention. The Gilmour team is already working on technologies with NASA to support future missions."
She notes Gilmour has experienced stratospheric growth in recent years and will inspire the next generation of space entrepreneurs.
"When Aussie kids see Gilmour technologies being used by NASA astronauts, it will inspire them to dream big and get involved in space science and engineering," she says.
Her views are echoed by Australian Space Agency deputy head Anthony Murfett.
"Gilmour Space has raised the profile of Australia's space industry across the globe and inspired our children to get involved in space activities," says Murfett.
"The Agency and Gilmour Space share the objectives of enhancing the capability, capacity and competitiveness of Australia's space industry while being globally responsible."
Space technologies are a part of our lives, from manufacturing to be a part of global supply chains, to emergency services using satellite images to understand the bigger picture. pic.twitter.com/FN4D2jOB12

Australian Space Agency (@AusSpaceAgency) 4 December 2019
Never miss a news update, subscribe here. Follow us on Facebook, LinkedIn, Instagram and Twitter.
Business News Australia
Get our daily business news
Sign up to our free email news updates.