Australian hydrogen fuel cell vehicle manufacturer H2X Global has this week announced a new joint venture with India-based Advik Hi-Tech in order to ramp up the production of vehicles for worldwide distribution.
The Indian-Australian joint venture, called Advik H2X, will produce hydrogen projects in India and was announced at the Delhi Auto Components 2023 Expo.
H2X Global, founded by CEO Brendan Norman, says the partnership signals a 'major step forward in the production of hydrogen powered vehicles and support products for the global market'.
Advik H2X will be based in India and will develop H2X Global-designed vehicles and components, including hydrogen fuel cell generators, trucks, buses and light commercials for clients around the globe.
According to Norman, the first products manufactured by the joint venture company will roll off the production line in the second half of 2023.
"This is a major step forward in the development of the hydrogen economy in India," Norman said.
"Already the demand for hydrogen and non-fossil fuel-based vehicles and support products is exceeding demand. We aim to fill that gap."
Registered as a business in 2021, H2X is the culmination of CEO Brendan Norman's journey in car manufacturing to date, an industry he has worked in since the early 1990s.
The company has already found early success, having raised $10 million in capital to kickstart the business early in its journey and has secured more than $50 million in pre-orders from early adopters for its hydrogen fuel cell-powered Warrego ute.
H2X Global is also currently developing several customer delivery programs for its fuel cell generators and vehicles in Europe, Australia and South-East Asia.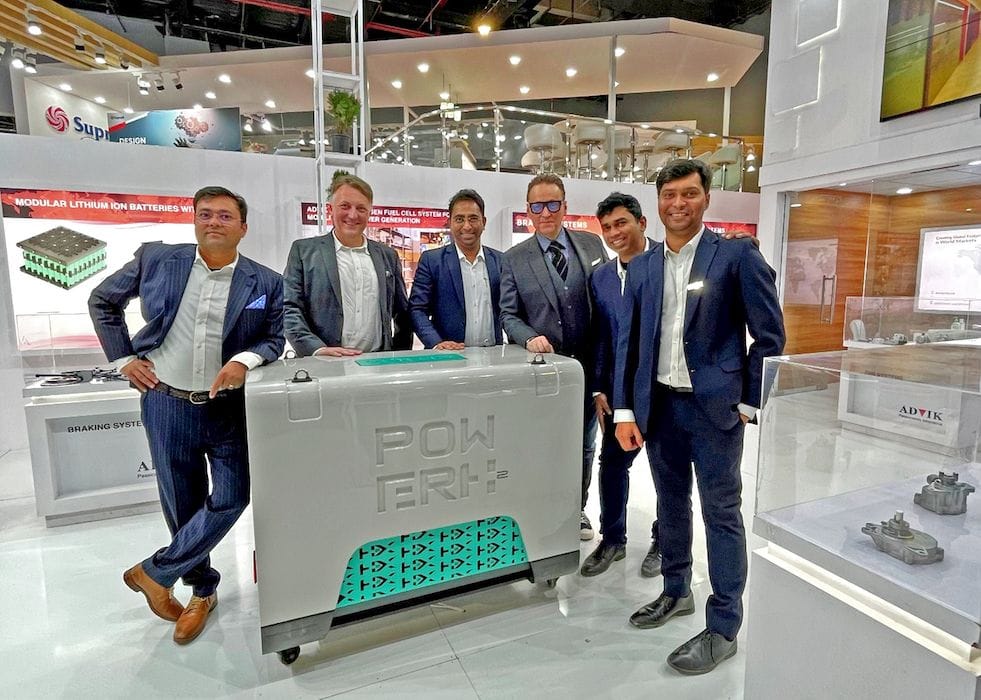 Its new partner Advik is an established automotive components manufacturer with more than $100 million in annual revenues according to H2X Global. It has a strong position in passenger car, commercial vehicle and two-wheeler production chains and is a core supplier of technology components to original equipment manufacturers (OEMs).
The Indian company's speciality is in high-tech, low weight components, which H2X hopes will enable the joint venture to take a leading position in development and production of solutions for hydrogen power and mobility in India.
"India is destined to be a leader in the hydrogen industry with strong support from government and industry and as a company which has always been ahead of the curve, we are aggressively pushing into the hydrogen space as a core growth area for our company and as a leader of this movement in the country," Advik Hi-Tech managing director Aditya Bhartia said.
"We have great confidence in the product range from H2X as being one with several key opportunities to support to deployment of hydrogen in the Indian market and together with our local knowledge and expertise we see great opportunity to develop this for acceleration of the Indian clean energy movement."
Advik H2X will also look at producing methanol fuel cells, which it believes will provide 'another clean alternative to hydrogen in certain products, ensuring full capacity utilisation of the fuel cell division of the company'.
"The opportunity to expand our company together with Advik who we have seen firsthand offer top of the world quality and precision, and acts with total grace and class is an amazing chance for us to grow our business," Norman said.
"Through the course of the exhibition, we have met with several OEMs and have seen significant interest in the hydrogen space and the cooperation with Advik and we see several opportunities to work together."
---
---
Headquartered in Sydney, H2X Global has two key operating divisions; one is designing and delivering the powertrain systems to heavy equipment and stationary power applications; the second develops and delivers multiple light equipment vehicles using a proprietary H2X fuel cell and powertrain system.
They differ from electric cars in that hydrogen vehicles can refuel and get back on the road within three minutes - an advantage that Norman foresees will be appreciated by petrol station operators which are looking to bring this type of technology online.
In addition to the Warrego ute - which can drive 750 kilometres before needing to refuel its 220KW motor - H2X Global is looking at producing a van which can be used for business purposes or as a taxi.
Future ambitions include the production of hydrogen fuel cell-powered trucks and buses, spurred on by an agreement signed last year with one of Sweden's major municipal waste companies Renova.
Under that deal, H2X will provide trucks and other light vehicles to the city of Gothenburg in a deal the company believes will pave the way for it to develop and produce vehicles for the wider Scandinavian transport industry.
Help us deliver quality journalism to you.
As a free and independent news site providing daily updates
during a period of unprecedented challenges for businesses everywhere
we call on your support