In less than a decade KX Pilates has muscled up to become the largest pilates franchise in Australia with more than 60 locations in all major cities.
Gone are the days of pilates being synonymous with stretching, at least when you compare KX Pilates to the traditional method.
Picture this. It's 2010. Hot yoga is starting to become a thing, but the term 'boutique studio' is still really confined to 'small gym'.
Aaron Smith, a personal trainer, returns to Australia after living abroad and sees a saturated fitness market but notices everyone is pulling the same tricks. And, he thinks, when it comes to pilates, nothing really seems to be doing the trick.
"I wasn't quite sure what I wanted to do yet with my life so like many people in their early twenties I went travelling overseas keen to seek out new training techniques that we hadn't yet seen in Australia," says Smith, who won the Fitness category in this year's Melbourne Young Entrepreneur Awards.
"After a few years of travelling back and forth between Colorado and Melbourne, I decided to head to the UK and found myself working in a fitness studio that offered a new, dynamic style of pilates that I had never seen before. I was sold and knew I had to take it back to Australia."
Smith, who specialised in strength and conditioning, saw an opportunity to innovate the pilates workout through speed, and most importantly, accuracy.
KX Pilates offers a fast-paced, high-intensity, full-body workout. Classes run for 50 minutes.
The original goal was to reach 50 studios by 2019-20. KX Pilates hit that in July 2018. The new goal is to more than double that.
In less than a decade KX Pilates has muscled up to become the largest pilates franchise in Australia with more than 60 locations in all major cities.
Smith puts the success down to building a community of 'KXers' as well as a stringent recruitment process. From the get-go, when he presented a business plan to his father who then acted as guarantor on a business loan, Smith has made it his business to bring the right people along on the journey.
It's this particular leadership style that led Smith to step down from the CEO post a little over 12 months ago. Now he's better able to focus on building a global community, with a growing focus on international expansion. KX Pilates opened its first international studio in Jakarta in August 2018.
"We opened six studios in our first three years before I started franchising in 2013 and have scaled up from there," Smith says.
"We went on a solid growth trajectory to open between 10 to 15 studios per year, although, that's actually quite slow in the fitness world because we have a goal not to close down studios.
"There's other groups, such as F45, which are opening around 50 studios per year. We're about sustainable growth. It's not a scattergun approach."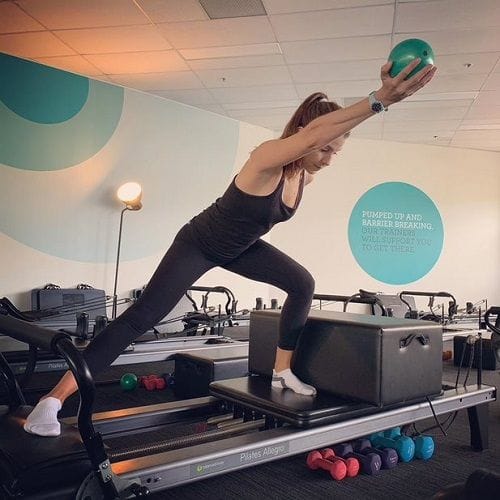 At this stage Smith still won't sell KX Pilates studios to anyone. It's mostly internal growth. Around 45 per cent of franchisees are ex-KX trainers, and about 40 per cent of the studios are multi-owned.
As an example, Smith is a part-owner in studio three, four and five, which he opened with a trainer. There are now around 40 owners across the network.
"I knew I needed franchising because of the trainer mentality where trainers are amazing at what they do, but often have very little business experience, and sometimes have a well-meaning arrogance like I once did to think they can just do it themselves," he says.
"Trainers are amazing ambassadors for the brand, great front of house and with people, and we can teach them everything they need to know about running and starting a business."
So, what is it about the 50-minute KX workout that gets people hooked, exactly?
Usually pilates reformer classes run for 45 minutes, taking place on the reformer bed with box and spring changes all throughout. Often pilates reformer teachers have a tendency to prioritise upper body or lower body during a single class.
The KX Pilates method minimises box and spring changes to optimise time and performance. If the box is placed on the reformer bed, Smith says it will usually stay there for half the class. KX Pilates is big on compound muscle groups, not isolation exercises, to double as a cardio workout too.
Smith believes there's room for innovation, but there's little room for imitation.
"KX Pilates has a dedicated, fully accredited by Fitness Australia, KX Academy, which is a 5-week training course only provided to trainers who will work for our company," he explains.
"It holds our IP internally in the company which is a main point of difference. We're also working on creating our own customised KX machines, which are 18 months in the making, and other fitness equipment, including a wholesale range and custom colour-coded dumbbells.
Asked about whether he would consider a run at an IPO in light of talk at the time that another major fitness group had hired bankers for a US listing, Smith doesn't appear to have plans locked tight. Or, perhaps, he's just deliberately keeping quiet.
"I don't know what's going to happen. I always said I'd probably sell one day but we still have a lot of things to do. The next 5-10 years is probably when I'd think about stepping aside or stepping out."
Never miss a news update, subscribe here. Follow us on Facebook, LinkedIn, Instagram and Twitter.
Business News Australia
Get our daily business news
Sign up to our free email news updates.