Four years ago activewear entrepreneurs Simon and Yetta Rawadi took a life-changing trip to Spain.
At the time, the two were best friends and business partners.
They wanted their holiday to be a mental cleansing exercise; one that would free their minds and allow them to clearly define their future.
"Yetta and I founded our own activewear brand eight years ago - when we went away, we did it to consider our life, our lifestyle, our business and our relationship," says Simon.
"We wrote down what we wanted our lives to look like and we wrote down goals for our business. When we got clear on what our skillset was and what gave us purpose, we realised we enjoyed helping others."
As if the stars had aligned in the Spanish skies that night, Slyletica was born.
After a few years of working on their own brand, Simon and Yetta had enjoyed success and became 'behind the scenes' gurus who were well versed in all aspects of the activewear fashion industry.
Hence Slyletica was the next logical move; a business that would help other entrepreneurs build their own brands, from concept right through to sales.
The name Slyletica itself is an indication of how the team operates.
They call themselves the most successful fashion brand you've never heard of; a 'sly' partner of sorts that exists as a silent helper to some of the best known influencers in the world.
To avoid stealing any thunder, Simon and Yetta keep Slyletica's client base strictly on the down-low.
"But," they tease, "if you've ever scrolled through Instagram before and seen some swimwear or activewear, there is a high possibility we have been behind the scenes on that brand."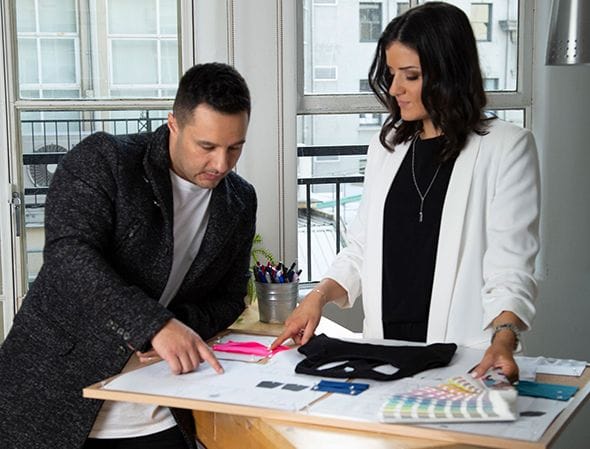 In the past year, Slyletica has grown exponentially and hit some major milestones.
When Yetta and Simon first set their goals in 2015, the initial target was to hit 10 clients. Now the business has worked with more than 750.
As they grow further into the marketing and brand management space, the Slyletica team plans to flex internationally.
"Slyletica is looking to open its Los Angeles office in March 2020 along with expanding into new lifestyle industries and technology," says Simon.
"We are going to be expanding into more products within that space like skincare and skin ranges and self-care products - as well as lifestyle products, eyewear, sneakers, those sorts of things."
Due to their sheer impact upon the industry, Simon and Yetta were recently named winners of the Manufacturing, Wholesale & Distribution Award at the prestigious Melbourne Young Entrepreneur Awards.
They are now hot contenders in the Australian Young Entrepreneur Awards which will take place next month on the Gold Coast.
There's no room for thinking small when it comes to the future of Slyletica.
"We want to be able to help Australian entrepreneurs and other entrepreneurs worldwide who have an idea," says Simon.
"When they come to us, we will help turn their idea into a worldwide brand."
Never miss a news update, subscribe here. Follow us on Facebook, LinkedIn, Instagram and Twitter.
Business News Australia
Get our daily business news
Sign up to our free email news updates.