"Lots of business literature conflates leadership and management as if they're the same thing - they're not," says Jack Delosa, founder of entrepreneur coaching company The Entourage.
If you ask Jack Delosa about how to turn a startup into a scale-up, he'll likely tell you it's all about how you spend your time.
Sure, capital and a few extra pairs of hands are helpful, but at a certain point much of a business' fate comes down to what the founder does each day.
He knows this all too well having gone through the ups and downs of developing fast-growing companies, including the likes of MBE Education, Q-Biotics and eMerchants
According to Delosa, who recently spoke at the The Entourage's Unconvention event in Sydney, there are four hats a founder will be wearing on their journey: technician, manager, leader and entrepreneur.
The four entrepreneurial hats
Horses for courses is the name of the game when it comes to successful entrepreneurship. In the early stages of a founder's journey with a company it can often be a mad scramble to balance their different roles, but it pays to distill them conceptually as a rough guide of how to act and when throughout the startup to scale-up evolution.
There is a knack of knowing when to switch modes that will ensure your business isn't hamstrung, giving you a bigger picture of what it takes to ensure you're moving in the right direction.
"The number one thing that holds us back is that the entrepreneur hasn't caught up with the growth and the size of the business and hasn't changed their approach accordingly," says Delosa.
"They're still running off habitual behaviours of what worked in the past."
The coach's four entrepreneurial hats are as follows:
Technician
When you start a business, Delosa says this is the hat you'll be wearing quite often.
As a technician, you're 'doing the doing' - your hands will be using the tools that make the business run; the nitty gritty, day-to-day work that keeps the business ticking.
Manager
Unlike the technician, a manager can drop the tools and knows how to delegate and draw upon the specialised skills and strengths of their team.
Leader
Much has been said about what it means to be a leader, but for Delosa it comes to one key question: "To what degree are my people intrinsically motivated to perform?".
"Lots of business literature conflates leadership and management as if they're the same thing - they're not," says Delosa.
"They have nothing in common. Management is numbers, it's KPIs, its accountability.
"Leadership is 'to what degree are we giving and extracting discretionary effort?' Do I know what the vision is and do I see how I fit into its actualisation? That's leadership.
"Management is head. Leadership is heart."
Entrepreneur
The final hat is that of the entrepreneur - the big thinker, the one with the golden plan.
"Entrepreneurs build assets," says Delosa.
"We build assets that work without us."
For founders looking to scale their businesses, Delosa says they cannot afford to lose sight of this one.
"I'd say the most important hat for an entrepreneur is the entrepreneur hat," says Delosa.
"And it's the most forgotten one. Sometimes you might get in and do technician's tasks from time to time, but you need to remember that you're an entrepreneur doing a technician's task - you're not a technician at heart.
"So the entrepreneur hat is definitely the most important, because it's what businesses need and that's what most businesses lack."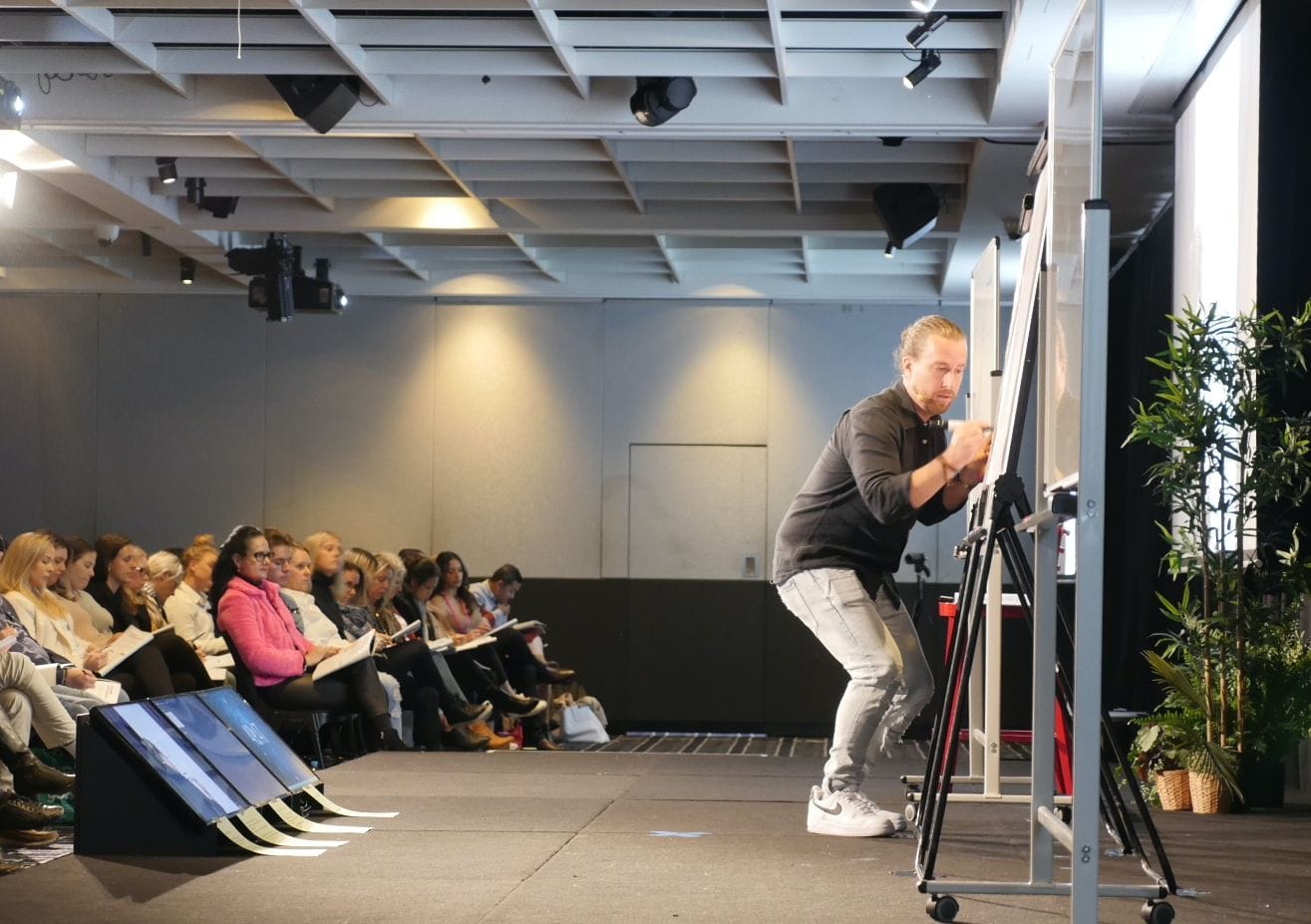 Jack Delosa at The Entourage's Unconvention
Choosing the right hat for scale
Knowing what roles founders can play is just one side of the equation. Timing is the other.
Delosa acknowledges that founders of nascent companies generating up to $100,000 per annum will likely be splitting their time fairly evenly between all four.
But once you decide to go from a startup (which The Entourage boss defines as businesses generating between $100,000 to $1 million) to scaleup (a business generating between $1 million and $10 million) the balance needs to change.
"Think of a startup business like a teenager figuring out what it wants to be when it grows up," says Delosa.
"We're sort of trying to find that viable, scalable business model. So in startup mode, the reason it's exhausting is because we're wearing every single hat."
He says founders should want to get to a point where they are spending 95 per cent of the time being an entrepreneur and a leader, 5 per cent of the time being a technician, and no time at all being a manager.
But why should founders of multi-million dollar businesses spend time in the trenches still when scaling up?
"To stay connected. To stay grounded," says Delosa.
"Me being here today is being a technician. I'm here speaking today because I love it. I think I was put on the planet to do it. If you told me I couldn't do it anymore I would go and start a competitor so I could do it.
"I still build every single company in such a way that it can operate without me because I want to get to a point where I can do this because I want to, not because I have to."
Get our daily business news
Sign up to our free email news updates.