Few would have questioned Our Cow co-founders Bianca Tarrant and Dave McGiveron if they decided to walk away from their beef farm in March 2019.
The couple were well versed in the precarious nature of farming in rural Australia after their farm was decimated by two years of bushfires and significant drought, followed by floods.
To add insult to injury, the price for beef dropped significantly in early 2019, which left farmers across Australia facing financial headwinds with no guaranteed price in place for their livestock.
Faced with ruin, Tarrant and McGiveron decided to turn away from the unfairness of fluctuating prices at cattle marts, pivoting instead to a business-to-consumer (B2C) meat subscription service model.
The relatively simple concept of delivering meat directly from the paddock to the plate formed the genesis of the idea behind starting a new business; Our Cow.
Today, this NSW-based agribusiness is a multimillion-dollar company that owns a processing facility in Casino (NSW), employs 30 staff, services 4,000 regular subscribers and has a relationship in place with roughly 150 farms.
Connecting people to where their food comes from remains the core focus of the business.
Tarrant was just 23 when she purchased an 800-hectare block of farmland, 3.5hrs inland from Byron Bay, with partner McGiveron in 2017.
Having experienced back-to-back years of unprecedented weather, and under mounting debt, Tarrant and her partner were at a low ebb in 2019.
Taking solace from how much support there was for farmers and the rural community amongst the wider Australian public and witnessing first-hand how unstable the market was for farmers, the idea for Our Cow was formed.
"As farmers, you never really know what price you're going to get for your livestock," Our Cow co-founder Bianca Tarrant explains to Business News Australia.
"You work all year to sell your livestock at an auction, and you hope to god the price is going to be up on the day, and someone is going to be there to try and purchase your livestock, but you're at the mercy of the big meat companies and the weather."
With the ambition to avoid price fluctuations for livestock and secure better prices for farmers, Our Cow started experimenting with selling beef directly to the public through Facebook in 2019.
It became immediately apparent to Tarrant, based on the initial demand, there was a hitherto untapped market for people who wanted to source meat directly. Early sales indicated customers were keen to understand where their meat derived from and was prepared to pay for grass-fed, free-range meat.
"From the start, we were able to start working with other farmers as well," says Tarrant, who along with McGiveron was a finalist in the 2021 Australian Young Entrepreneur Awards.
"By bringing on other farmers into our business and purchasing from them directly, we were able to bring stability to their operation, as well as bringing really good quality grass-fed and organic meat to the dinner table of audit families."
All of the meat Our Cow sells comes from pasture-raised, hormone-free cattle.
The concept of delivering meat directly to the customer may not be a novel idea, but it has never been attempted at the same scale Our Cow is aiming towards.
"It is risky to do something that so many people have said wouldn't work and that they've tried and failed, but it seems to be working so far," Tarrant explains.
"I mean, we've put our neck on the line a fair bit and invested in infrastructure and a lot of machinery and things like that, that we now own to be able to process the livestock.
"But, I think there's definitely a market there for it, and we've really seen the demand for it coming through even stronger during COVID because people just wanted food security, and they wanted to know where their food is coming from."
It has been widely reported that the meat industry has faced significant disruptions over the past couple of months. In some cases, it has led to state governments intervening to assist meat processing facilities whose workers are struck down with the virus.
As meat counters lay bare across supermarket shelves throughout Australia due to supply change issues associated with COVID, Our Cow is reaping the benefits from owning and controlling its own supply chain.
The processing plant, home to Our Cow's team of butchers, slicers, boners and meatpackers, is where meat gets processed, packaged and dispatched once it arrives from the abattoir.
As Our Cow continues to operate at almost full capacity, the business's short-term strategy is to take advantage of the current food shortages by launching an extensive marketing campaign to capture new subscribers.
However, Our Cow might not wholly avoid the crises; Tarrant took to social media recently to reassure Our Cow customers that current delays being experienced were not related to COVID but due to the sheer volume of recent orders.
Findings from the Intergovernmental Panel on Climate Change (IPCC), published in 2021, confirm climate change is already hurting Australian farmers. Agricultural profits fell 23 per cent over 20 years from 2000 to 2020.
The Australian Bureau of Agricultural and Resource Economics and Sciences (ABARES) further predict overall farm profit will fall another 13 per cent by 2050.
McGiveron believes the 200-year-old Australian livestock industry format is prime for change and is happy to help disrupt the old practices.
"There's a lot of mention about the meat industry at the moment and an issue with climate change," McGiveron says.
"But that's industrially farmed produce - we want people to get away from that industrially farmed animal and get back to eating more free-range and organic type meats.
"It is better for the climate that animals are grazing our land and sequestering carbon, it's not just about an industrially farmed animal and industrially farmed practices – it's about trying to look after our country and probably eat less but better-quality meat."
Tarrant is also aware that farming is in the media spotlight, receiving quite a lot of negative coverage over climate change, but believes consumers want to be educated about the other side of agriculture.
"There is a very big positive side to agriculture,' she says.
"I think if we can have more people choosing to eat their food, in this way that's produced naturally and organically and sustainably, it will have quite a significant impact on the environment going forward and, on the industry, as well."
Although Australia exports roughly 70 per cent, Tarrant believes the industry may eventually move away from extensive industrial-type farming as farmers feel more satisfaction from knowing that a family sitting in Sydney, Melbourne, or Brisbane are enjoying meat produced on their farm.
This symbiotic relationship is proving successful for Our Cow - whose customers can subscribe to the company's social media channels to connect with the farmers and everyday farming life.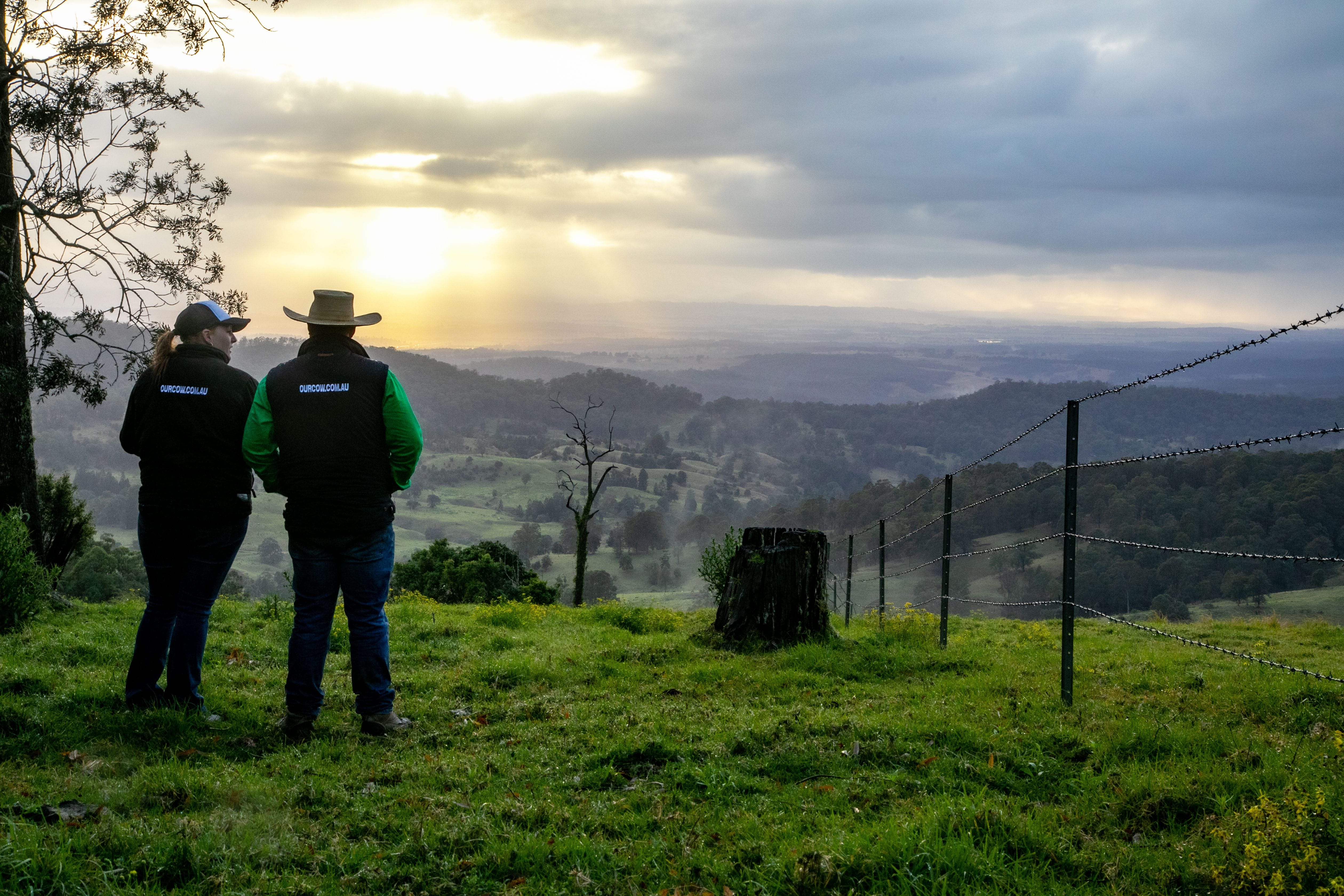 The business decided against raising capital when starting out, and as it approaches the first round of funding, Tarrant sees the advantages in following this path.
"It's just given us a really good education and an apprenticeship in business," she says.
"We've been tight, and we've bootstrapped the business the whole way.
"I think it's taught us to think big and to go hard and to back ourselves more than just relying on someone else to come in and help us out when things get tough."
Not content with sitting still, Tarrant is constantly thinking about the direction the business can move next.
One opportunity she believes might be worth pursuing is providing meal kits to customers having observed the success of companies like Hello Fresh, Marley Spoon and Dinnerly during the pandemic.
"Our customers love knowing they're directly supporting a farmer; by purchasing through Our Cow, every piece of meat they purchase has got that farmers name on it, and they can link it back," Tarrant says.
"There's a lot of room for growth in Australia. I think that more and more people want to know where their food is coming from, and we can provide that for them and the traceability around it," McGiveron confirms.
Tarrant believes Our Cow can differentiate against the other suppliers based on the quality of its meat and other ingredients.
For now, though, the immediate focus is growth and capturing market share. The business is looking to increase subscribers, bring on more farmers and build out its e-commerce platform as it scales up from a start-up.
"The capital that we'll be taking on, during the funding round, will be just purely for growth and marketing to be able to increase our subscription numbers where we're aiming for around 16,000 subscribers by the end of this year," Tarrant confirms.
"So, we're going to be pushing our marketing quite hard, and that is what the investment funds will be useful.
"I'm really proud of Dave and I for backing ourselves, and believing in ourselves, that we could do it and make a bit of a difference in what the industry's doing."
Get our daily business news
Sign up to our free email news updates.
Help us deliver quality journalism to you.
As a free and independent news site providing daily updates
during a period of unprecedented challenges for businesses everywhere
we call on your support