As technology continues to scale and artificial intelligence (AI) becomes smarter and more autonomous, the question on everyone's lips is 'will AI ever run me out of business?'
Jacqueline Garavente doesn't think so.
As a prominent venture capitalist at Union Square Ventures (USV) in New York, Garavente knows more about AI technology than most, watching its applications unfold across USV's extensive portfolio of companies.
Where some fear the prospect of AI replacing the need for human involvement, Garavente believes the future will be precisely the opposite.
"I don't worry about AI running entrepreneurs out of business," she says.
"I think about entrepreneurs who can get creative and learn to harness AI for a specific application.
"There are 68 companies in our portfolio ranging from a way to write better code, to image recognition and ad placement. People can get extremely creative with the tech."
Garavente began her career in AI at IBM Watson before moving to the New York based startup Dataminr. Her past research has included machine learning, application of open source data and the intersection of technology and economic development.

The techpreneur was a key panellist at Myriad Festival this week, flying south on Tuesday for the Gold Coast Way Ahead event hosted at Bond University and The Star Gold Coast.
Garavente says it's never been a better time to be an entrepreneur in Australia as barriers to visibility and access to capital are removed by technology.
"What's so fascinating is that Australia has always had very talented entrepreneurs, it's just been a smaller population, and because of traditional tech and travel it was harder in the past to get anywhere or for people to see what was happening," she says.
"Nowadays there is so much more visibility. What I love about Myriad and why I wanted to come to Australia is because I wanted the spotlight to shine on these people who have so much talent, energy and entrepreneurial skills to bring."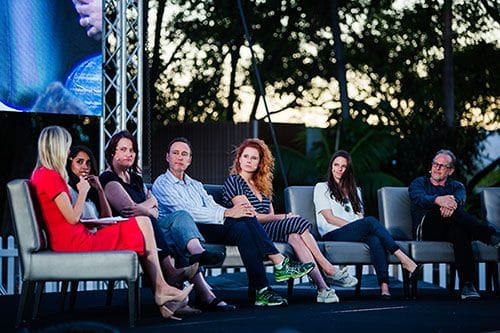 Panelists at Gold Coast Way Ahead event
While Garavente is sold on South-East Queensland's potential as a future global startup hub, she says there is still too much red tape inhibiting the startup industry from being as competitive as America on a venture capital level.
"I've heard a lot about regulatory issues here," she says.
"If people in Australia are getting most of their money to start tech companies from a bank, it's going to be really tough for that entrepreneur to turn it around and deliver returns.
"A lot of the companies in our portfolio aren't even cash positive for up to three or four years, and in Australia I've heard about the moratorium where if you declare bankruptcy you can't do anything in business for three years.
"That's such a killer for entrepreneurship! A lot of the law and regulatory issues need to change."
At Myriad 2018, Garavente joined a panel of leading international entrepreneurs, investors and executives to talk about the future of Queensland's economic ecosystem.
Other high-profile members of the panel included Google Maps' product manager Clementine Jacoby, founder of Integrate Jeremy Bloom and Steve Jurvetson, co-founder of US$6 billion venture capital group Draper Fisher Jurvetson.
Jurvetson, who also sits on the board of tech giants Tesla and SpaceX, shed light on how the rise of technology is turning 'crappy' businesses into gold.
Never miss a news update, subscribe here. Follow us on Facebook, LinkedIn, Instagram and Twitter.
Get our daily business news
Sign up to our free email news updates.