With recipes developed by the former personal chef of renowned vegetarian Sir Paul McCartney, plant-based restaurant Flave is raising a sizeable amount of cash for a chain with just one store, but that Bondi outlet is merely the entrée for a long lunch ahead.
The company is set to open a Darlinghurst store in early 2023 with a strong catering bent to CBD corporates - complete with environmental impact assessments on request - and a term sheet has been signed with a master franchisee in India, where the first outlet is due to open in March as one of 42 on the menu in the sub-continent over the next five years.
"Thinking like a billion dollar company" was at the core of an initial $3 million raise pre-COVID according to Flave co-founder Stuart Cook, the former CEO of Mexican food chain Zambrero.
Now the group has secured a further $2.5 million in a Series A, and plans to raise up to $2 million via an equity crowdfunding tranche launched on Birchal today - a round that secured 1,066 expressions of interest (EOIs) and has already raised almost $280,000 just three hours into the launch.
Cook, who quips that he doesn't live up well to his surname, founded Flave with his wife Samantha Cook - a former CEO of Zambrero founder Dr Sam Prince's charity One Disease - after she suffered from a bacterial infection during the newlyweds' honeymoon in Costa Rica. Once treatments "stripped" her microbiome, a GP recommended she turned to a plant-based diet to assist in her healing.
As a supportive husband, Stuart joined Sam on that journey and neither has looked back since. Observing that the plant-based product space was saturated, the pair believed there was still an untapped market for experiential plant-based restaurants where the vegan option is central rather than an afterthought.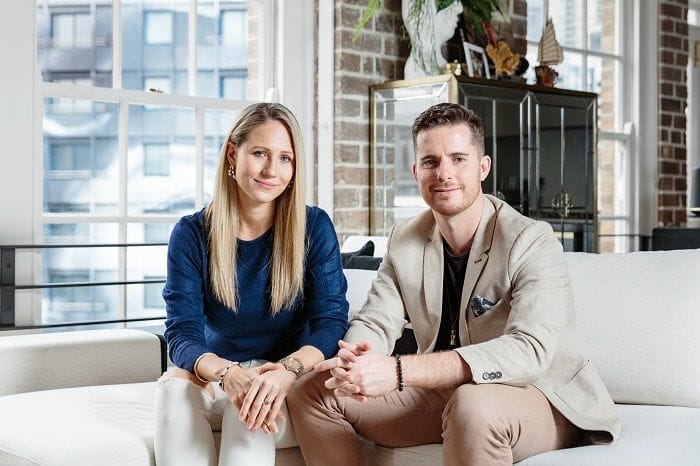 In those development stages it was serendipitous that Stuart bumped into Scott Findlay, the chef at Milky Lane, perhaps "the most non-vegan place in the world at the time".
"We had already came up with the name Flave and were embarking on this journey, and we knew we wanted a meat-eating chef who had an experience with plant-based cuisine," says Stuart, who was a finalist at the Sydney Young Entrepreneur Awards with two companies, the other being impact investment outfit TWIYO Capital and Advisory.
"It's about replicating the flavours, the textures and the taste of meat in order to be able to attract the 90 per cent of people who aren't vegetarian or vegan.
"I asked Scott if he knew someone with the experience we wanted and he said he'd be interested."
And it was this new contact's background that would have felt too good to be true for the entrepreneur.
"He said, 'I was trained by Gordon Ramsay. I then worked for Sir Paul McCartney as his private chef, flying around the world with him cooking plant-based meals for six years'," Stuart explains, adding Scott has also cooked for numerous celebrities including Rihanna, Beyonce and Elton John.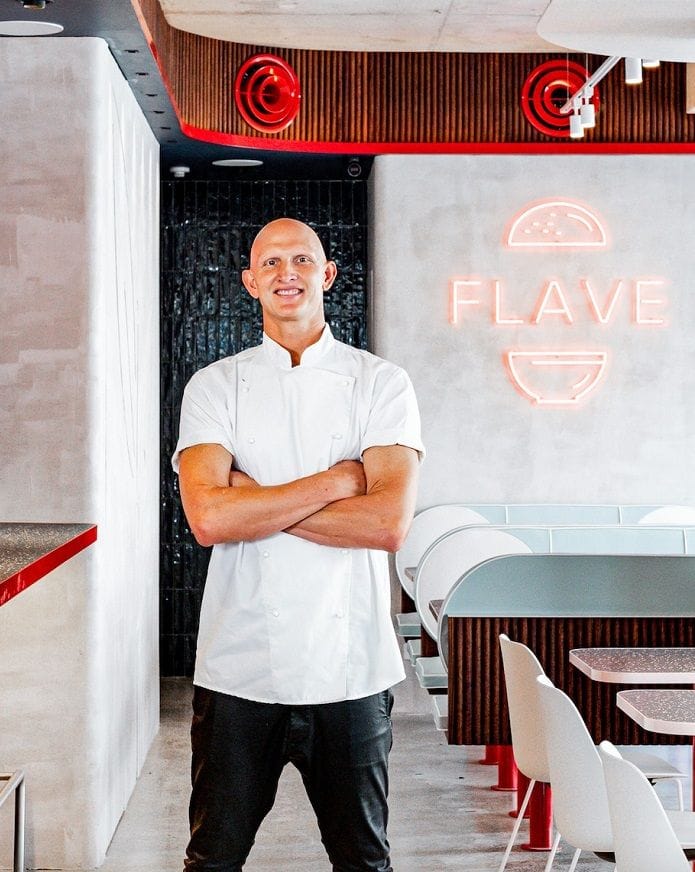 With a business development plan and an ideal recipe developer to boot, the Flave founders raised $3 million to sharpen their board focus, bringing in former Starbucks executive Jessica Gleeson, Akcelo CEO Aden Hepburn, and as an advisor Hui Cox, who has also worked at a senior level in Starbucks as well as McDonald's and Taco Bell
More recently Flave has also brought on former Costa Group (ASX: CGC) CEO Harry Debney as chairman.
"I believe that you bring on people who cover your areas of weakness, who have got their areas of specialty," Stuart explains.
"Even though I've had a fair bit of experience with strong corporate governance, thinking like a billion dollar company is something that we wanted to bring into the fold."
As it transpired, one weakness filled by one those board appointments was simply geographical and circumstantial, giving the startup a useful heads-up before an unexpected event that was to severely hinder restaurants worldwide.
"We were meant to open in 2020 but then COVID happened and luckily we had a board member who was based in China who said 'hey, you better hold off signing that lease, because if it's going to jump the ditch it is going to hit you guys pretty hard'," Stuart says.
"We've definitely had a pretty disruptive first couple of years in the business, and with the floods and commodity prices and everything going on with Ukraine and inflation and the like, it's been a very 'interesting' time to be in hospitality.
"But we know we're on the right path, and we've got a amazing group of supporters and investors, but also customers who have been crying out for these sort of products for a very long time."
As part of plans to roll out 1,000 stores globally, this year Flave embarked on a Series A that raised just shy of $2.5 million, of which $1 million came from board members with the balance made of high net worth (NHW) investors.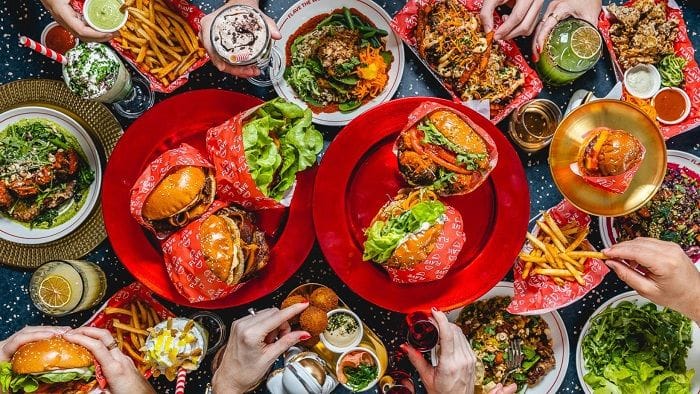 The original plan was to continue that series further, but after taking stock of the challenging capital market situation and the potential for investment demand from consumers, Stuart says he was excited to get involved with equity crowdfunding.
"You get all these consumers who love their brands and want to push forward, and they've usually only been able to invest in big stocks of publicly listed companies," he says.
"We're not not changing the valuation for equity crowdfunders; there have been cases of a number of companies going to crowdfunding so they can get a ridiculous valuation, so myself and the board have already put in $1 million at the same price per share as what the equity crowd funders are getting access to."
He says Flave does field questions from potential investors about the drop-off in valuations for some global plant-based companies, and what that might mean for Flave. But his belief is that some of the drop-offs for listed companies signify a reversion to the mean after being treated 'like biotech stocks'.
"Do we get questions about it? 100 per cent, but then I think that just with everything that's going on in the world from global warming to people being more conscious consumers, they do see that this needs to change," he says.
"They also see that there aren't many people focusing on the brand experience – they're focusing just on just a product piece.
"Our goal is to focus on the brand experience to introduce people to the power and how amazing plant-based food can be."
He clarifies only around 20 to 30 per cent of Flave customers are either vegetarian or vegan.
"Most of them are not. We are getting almost 70 per cent repeat customer rates, which means people when they try it are coming back, and they're very engaged with the brand," he says.
"Within Flave we get a lot of meat eaters that don't even realise we're plant based.
"Intellectually they know the benefits not only for their health, but also the environment, but people do what's convenient and comfortable. And so we want to create a brand where they didn't have to sacrifice on flavour, consistency, style of product or taste."
Get our daily business news
Sign up to our free email news updates.