Battery-powered watercraft maker Fliteboard has today announced it has secured Series B funding as it looks to accelerate research and development initiatives and enter new markets.
The equity raise - the value of which was undisclosed but is upwards of $30 million - was led by Victor Smorgon Partners, a privately-owned, boutique investment manager, alongside Afterpay's Anthony Eisen, VC investor Josh Liberman and golfer Adam Scott, with funds to take the feat of industrial design, which gives users the sensation of flying over water, to more international customers.
"We are thrilled to have Victor Smorgon managing director Peter Edwards, co-founder Glenn Poswell and associated investors joining us who not only bring growth capital but share our vision and values and bring experience and connections that will help us continue to scale our exciting global business, inspired by, and headquartered here in Australia," Fliteboard Founder and CEO David Trewern said.
The concept behind the electric foiling (eFoil) surfboard - which can reach top speeds of up to 50km/h - is the brainchild of founder David Trewern, a former kite surfing world record holder and serial entrepreneur.
Before founding Byron Bay-based Fliteboard in 2016, the design and technology innovator established creative technology business AKQA New Zealand and Australia (previously known as DT) in 1996 and brand design company Designworks Melbourne (previously Threefold) in the early 2000s.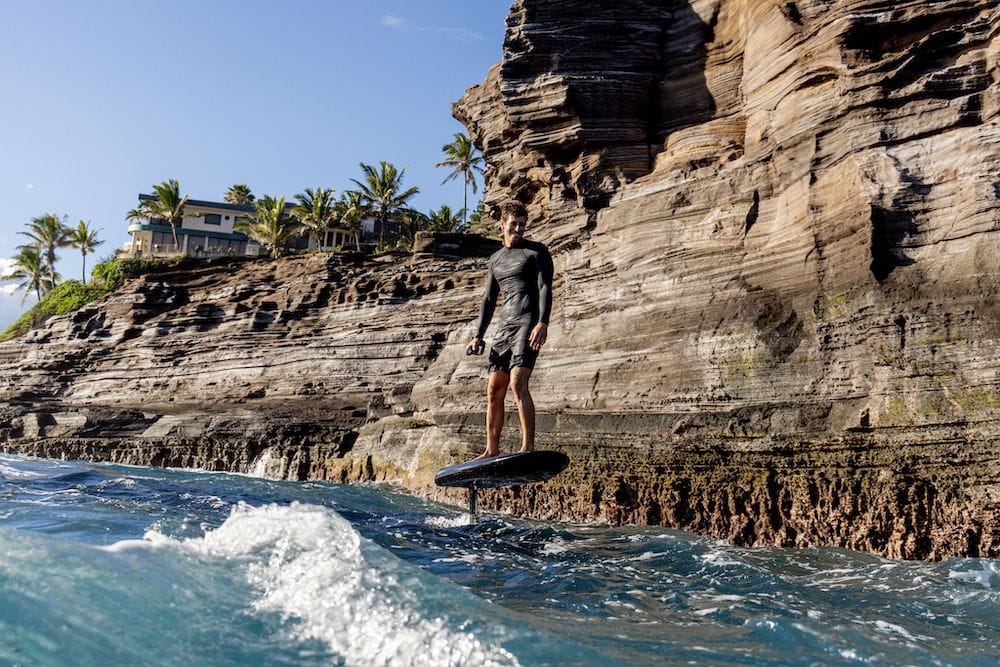 Fliteboard's range of boards includes three models - AIR, PRO and ULTRA - which are all electric-powered hydrofoils of varying sizes, designed for different levels of experience and tastes.
Unlike other eFoil systems, the Fliteboard motor is built into the unibody hydrofoil fuselage, providing thrust directly behind the front wing instead of above the fuselage in a separate enclosure.
The PRO and ULTRA brands are made with advanced PVC and carbon sandwich construction, which have a timber board finish, while the white and black boards are finished in ballistic grade carbon Innegra top and biax-carbon bottom.
Weighing between 28.5kg and 34kg, the boards can be ridden in a wave or ocean swell but are not suitable for riding breaking waves in the surf zone.
Fliteboard has just released its latest series of upgrades, Flite Series 2.2, which the business claims demonstrates a new benchmark in electric marine power.
With international offices in the Netherlands and the US, the business exports more than 95 per cent of its products and is set to bag revenue of more than $50 million this year, almost doubling 2021's takings.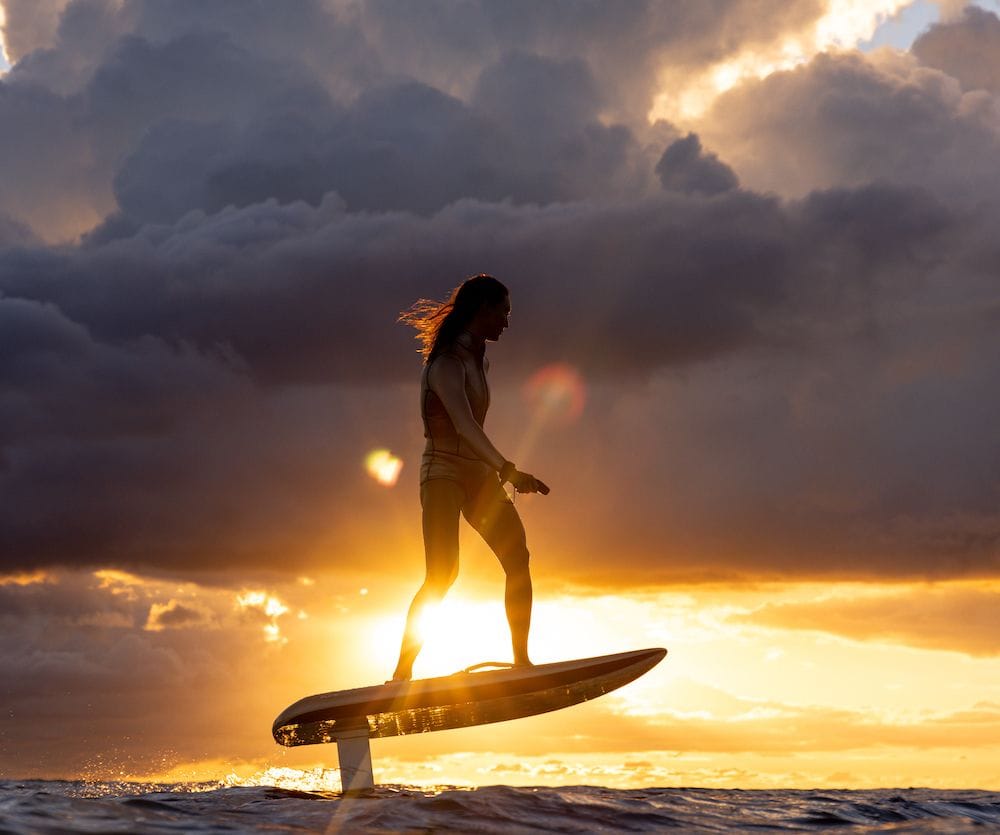 In 2021, Fliteboard set records for the fastest eFoil speed in the world and hosted the first official international eFoiling race – the Flite Cup. The company is also a recent recipient of a 2022 Green Product Award; an annual competition aimed at startups looking at green solutions.
"Fliteboard is a revolutionary water sports product whose surprisingly low energy consumption gives it a high sustainability potential. Technology, society, environment, and culture are perfectly integrated through design," the Green Awards jury said after issuing the award.
"It is also very exciting that in the near future, perhaps this technology can be applied to related sports and even more extensive marine transportation and redefine the way of water travel."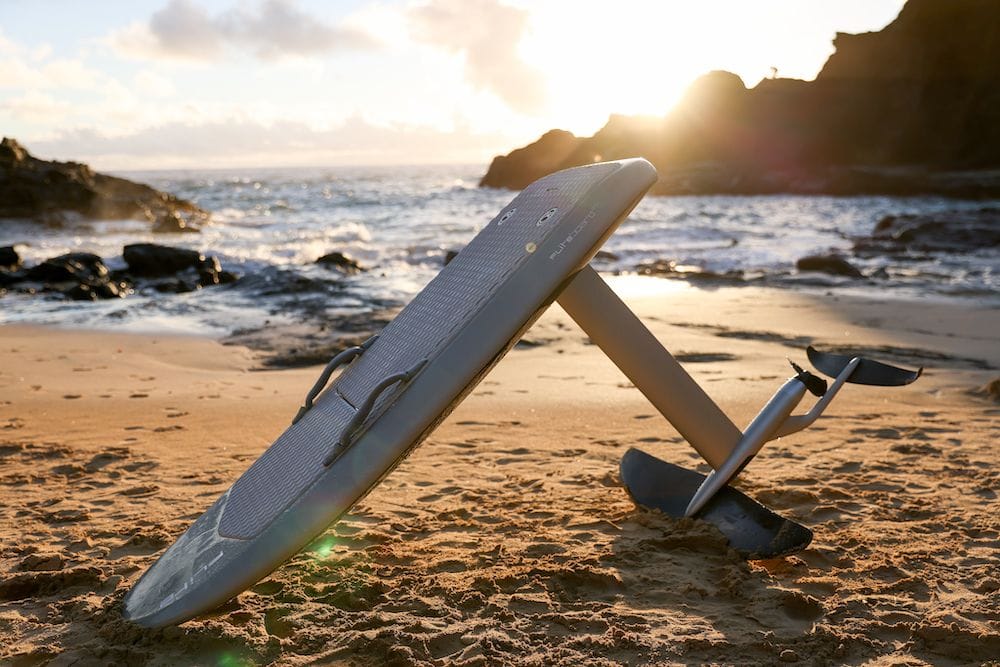 The Fliteboard team are continually innovating and developing new technologies that, when scaled, have the potential to create a future of quiet, clean ocean enjoyment and water transport.
"Fliteboard is possibly the world's most efficient and environmentally friendly, powered marine vehicles," Trewern said.
Victor Smorgon Partners co-founder Glenn Poswell said the firm was proud to have led the funding round.
"Fliteboard is a game-changing company with an incredible user experience that's delivering exciting products and technology to the world," said Poswell, who will join the Fliteboard board as part of the investment.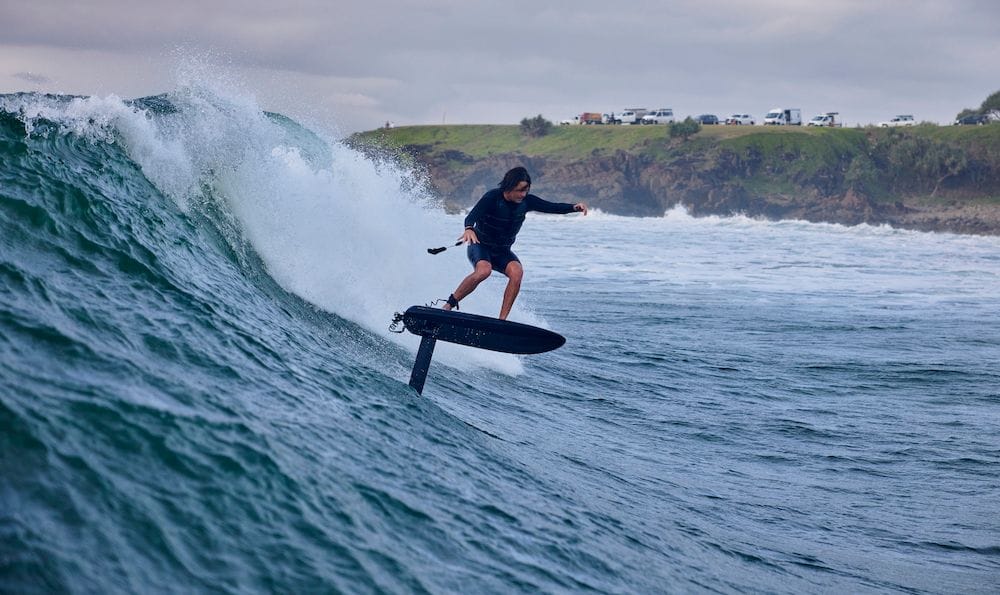 For Fliteboard CEO David Trewern, the capital opens up a huge opportunity for growth.
"We have been profitable for three years, however when creating and shipping high priced products around the world, cashflow is a constraint to growth," Trewern said.
"We will be able to purchase and ship more inventory and accelerate product development, marketing and global expansion. We already export 95 per cent of the products we make, and once we can ramp up production, there is huge scope for new markets, new territories and even new product areas.
"It will also help to drive our sustainable innovation program, which has helped put us on the global map. We won a global Green Award last week, and we have big plans for further design innovation."
Trewern has achieved his dream of building a great business while living in a more relaxed and natural environment full of inspiration and notes a couple of factors that make Byron Bay so special.
"Firstly, the desire to get out and ride around our beautiful bay on days when the wind won't let me launch my kite," he said.
"Secondly, the pristine marine environment that deserves new technology such as clean and quiet electric power instead of petrol. Then there is the lifestyle here in Byron Bay, of course, which made it the perfect backdrop for creating Fliteboard."
Get our daily business news
Sign up to our free email news updates.