Aiming to sign-up 12,500 Aussie households to its online zero waste shopping solution, eco-startup Raw Bulk Foods is mid-way through its 'pantry for the planet' Kickstarter campaign attempting to help eliminate waste and single use plastic products from the supply chain.
The Noosa-based business is cutting out single-use plastic by sourcing food staples and dried goods directly from Aussie farmers and delivering door-to-door in re-usable glass jars and bags made from recycled plastic bottles from its storage unit.
After stagnating in a corporate finance career that paid well but lacked purpose, founder Stephanie Hughes sought out a new project to combine the business skills she had developed while pursuing her passion for sustainability.
"I'd left a major supermarket one day, and maybe it's because I don't go into supermarkets all that often, but I just couldn't believe, looking at everybody's trolleys, the amount of plastic," Hughes recounts to Business News Australia about the inspiration behind her new business.
"It was just more or less a lot of imported ingredients laced in single-use plastic, and I left that day and thought to myself, imagine if you could deliver to everybody in Australia plastic-free - imagine everybody had access to shop in a better way.
"I also know farmers get paid so little from the major supermarkets, they're getting about 40 per cent of what is on the shelf, and I thought, imagine if you could split the profit – it would be a lot fairer."
Having previously travelled with work, Hughes was already conscious of the environmental impact of single-use plastics in other countries, where it is far more visible.
Like many other Australians, Hughes first looked to minimise her own environmental impact by diligently adhering to her household's set of recycling rules. However, it wasn't until she started researching the industry that she realised the true extent of waste throughout the supply chain was far more frightening than she had envisaged.
While continuing to work full-time, Hughes spent a year developing the business concept on weekends, determining if there was a viable market.
She was shocked to discover items were likely to have been repackaged four or five times before they reached the supermarket shelves.
"If we're really going to fight this plastic pollution problem, we must change where we're sourcing it from," Hughes says.
"It's not just at a consumer level, because these consumers are going into these stores thinking there's no plastic in the supply chain, but actually, there's probably a tonne of plastic before they even see it; it's just been hidden in different areas.
"I think that was one of my most significant learning curves, and I think this is where the business has become so much bigger than what I anticipated at the beginning."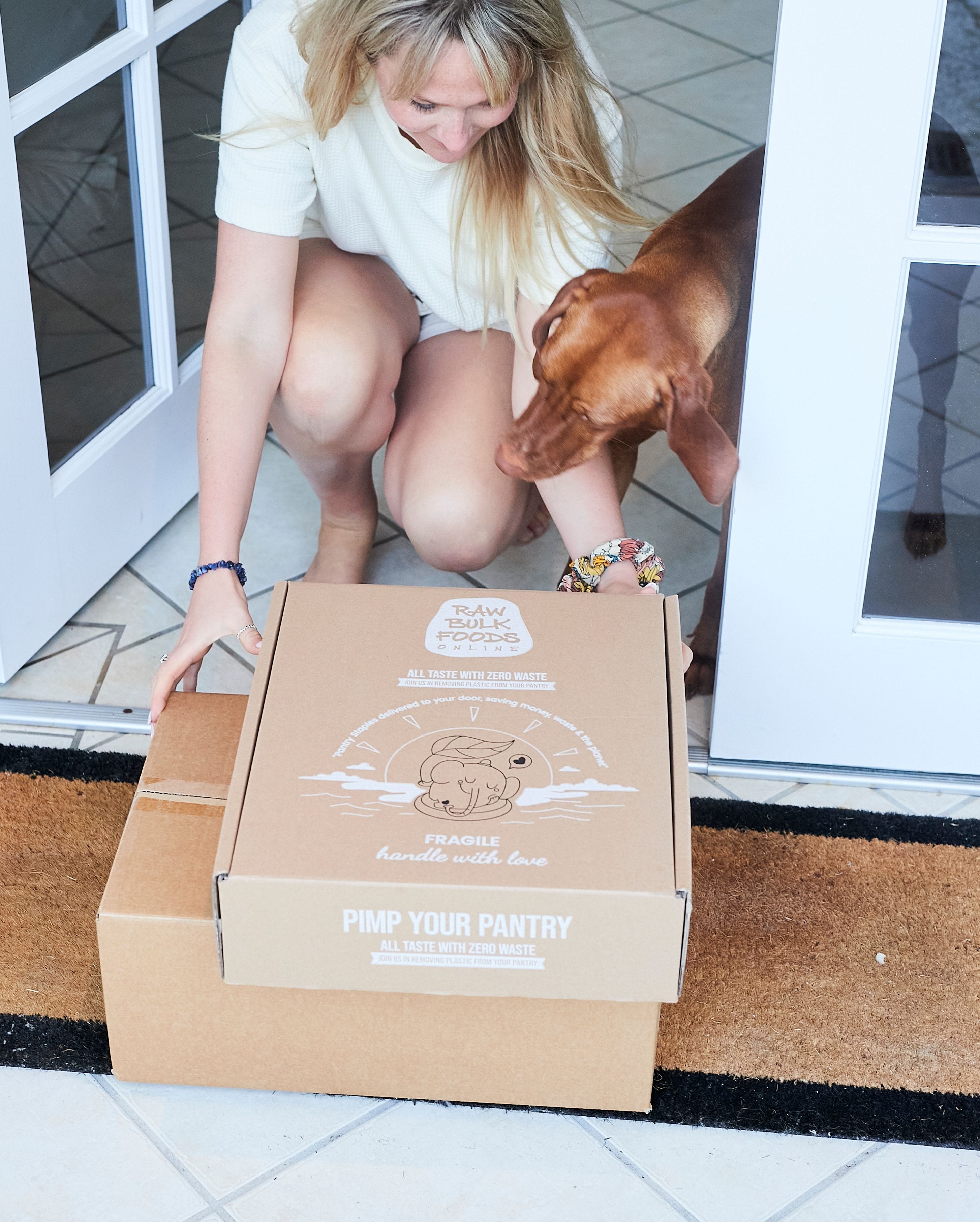 In the fight against tackling plastic pollution, Hughes knows her business supply chain isn't perfect but is working towards it.
In contrast, bulk food stores, which are seen as competitors and whose revenue has exploded over the past five years, are still sourcing from as little as 500g, 1kg, and 2kg single use plastic bags.
Hughes believes that if the industry is going to tackle the fight against plastic pollution, businesses must collectively change where they source their products from.
By cutting out the middlemen in the supply chain, Hughes believes she can deliver cheaper to the consumer while paying a better price for the product.
"At first, I thought great, I'll source it, but I was naive as I thought I'd be able to source plastic-free," Hughes says.
"I thought if I give the suppliers my bags, they'll be able to do it, and it took months of testing with different suppliers for them to use my bag because the whole operation is still built on a support foundation of single-use plastic."
Hughes and her team have overcome many hurdles in setting up the business and none more than people questioning her change in career.
"People said to me when I started after I left my corporate career, it'll never work - people won't change, people aren't interested," Hughes says.
"If it could be done, then Coles and Woolworths would be doing it. But I stand here now, proud and boldly because one thing we have proven is that we can do it better - because we can see that we can do it better.
"The thing what I've found is even the growers are in support of us delivering it this way".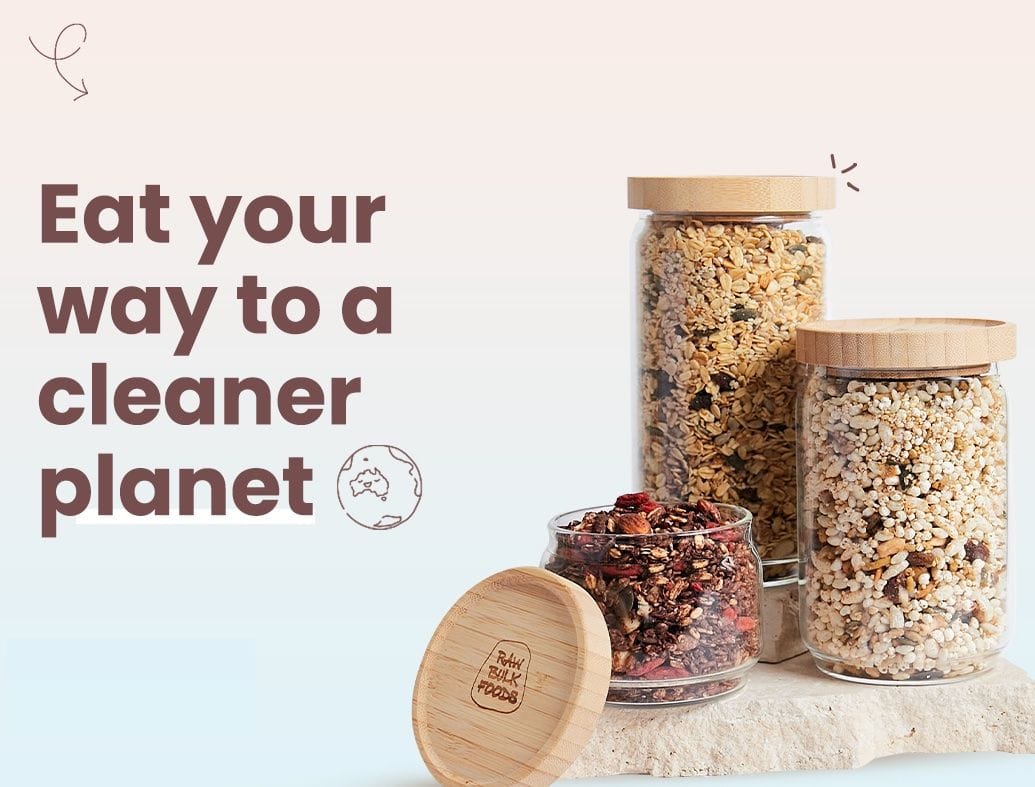 Hughes is asking people to fundamentally change how they shop, so she didn't feel like the time was quite right to look for outside investment.
Instead, Hughes believes the best way of continuing the focus on sustainability is to create an authentic crowd-funded and people-driven business.
If it meets its Kickstarter target, Raw Bulk Foods will start distributing (carbon-neutral) across Australia from April. Products will be delivered to end consumers using borosilicate upcycled glass jars with recycled bamboo lids and bags made from recycled plastic bottles diverted from landfill and ocean plastic.
All used bags can be returned by envelope to the business, who will then re-use the bags for subsequent deliveries.
An average weekly shop for a family of four includes 10-15 wrapped pantry items, which adds up to 520 plastic items over a year. If 12,500 households subscribe to Raw Bulk Foods, it will equate to eliminating 6.5 million plastic packets, which is Hughes' first-year target for the business.
Hughes, who left her full-time job last October to take on running the business, has enjoyed the challenges of setting up the company and is entirely motivated by the underlying cause.
"You think about the supply chain at the minute; you go in and buy your rice, you come home and empty the bag into a jar, and the bag goes straight in the recycling bin," Hughes says.
"Fundamentally, our recycling system is broken; otherwise, 95 per cent wouldn't end up in landfill at the end of the year."
There have been hiccups along the way, including an inedible curry flavoured muesli after a couple of reusable bags were mixed up. Still, Hughes is confident her business can make a significant impact.
The business raised $10,000 in its first hour and has now raised $46,337 from 283 backers. Last week it was accredited as a partner of 4oceans.
Get our daily business news
Sign up to our free email news updates.