The entrepreneurial journey can be a lonely road.
In my own experience, I found that at times the entrepreneurial drive and commitment could be all encompassing.
It's quite easy to get caught up in your own head or, worse yet, limited by your own (tunnel) vision.
As an ambitious business owner, I knew that I wanted to test the boundaries of not only my business but my own personal skills and knowledge.
In 2003, I began nurturing my vision to create a network of strategy-focused HR and business professionals to service the under-resourced SME market in Australia. The idea was strong and filled a gaping hole in the market at that time. We had impressive results as we launched the concept and grew the business.
But it was the decision I made in 2004 that made all the difference to not only that business, but my own entrepreneurial journey.
I implemented an Advisory Board.
An Advisory Board refers to a structured collaborative method for organisations to engage external advisors.
In practice, this usually involves business representatives, an independent Chair and carefully selected Advisors who provide objective advice and mentoring.
This advice ranges from how to grow or scale your business, to helping support a key transition within a company, tackling business challenges, managing crisis, leading expansion into new markets and other strategic or technical advice.
An Advisory Board acts as a sounding board for the owners, directors or shareholders of a company to bounce ideas off and get access to expertise that might not ordinarily be readily available.
Unlike a Governance Board of Directors, an Advisory Board does not make binding decisions and does not have any fiduciary responsibility.
I decided to take the step of appointing an Advisory Board to assist with my ambitious plans for growth, and provide me with a level of accountability. I wanted my boundaries to be tested by a group of advisors I trusted and respected.
Without giving away power and authority, I was still in control of decisions, but I gained a whole new depth of critical thinking and problem solving to back me up. I could leverage the advisors experience, judgement and contacts.
Appointing an Advisory Board was a natural next step for my business and was the best business decision I made.
My Advisory Board stayed with me for the full lifecycle of the business from the growth stage in the Australian market, to building our international strategy, and then preparing and navigating our exit strategy.
Empowered Engagement
After exiting the business, I found that other entrepreneurs and organisations were seeking out my advice and assistance.
I provided strategy workshops, consulting and strategic reviews. But what I found missing in most of these businesses was the ongoing support and focus that my own Advisory Board had provided. The ad-hoc consulting was a band-aid approach.
What was lacking was a strong foundation and framework for businesses to support the effective engagement of Advisors.
I realised that if an independent Advisory Board could have such an impact on me as a business owner, it could also add value and impact to other organisations.
I founded the Advisory Board Centre, the world's first professional body for Advisory Boards to support the advancement of the Advisory sector.
Building on more than 15 years research into business drivers of effective advisor engagement, we have developed the ABF101 Advisory Board Best Practice Framework as a foundation to our sector globally.
The ABF101 Advisory Board Best Practice Framework is purposeful, flexible and agile just like the organisations the Advisory community serves.
ABF101 Advisory Board Best Practice Framework
Underpinned by data, analysis and consultation, the ABF101 Advisory Board Best Practice Framework is a go-to resource created to provide support and guidance to those who wish to leverage the power and value of forming an Advisory Board to achieve their strategic goals.
The ABF101 Framework outlines 5 key principles for Advisors and Organisations to consider when it comes to setting the foundations to establishing a strong, strategic and valuable Advisory Board.
The ABF101 Framework is designed to be flexible and capable of adaption to different organisations and situations.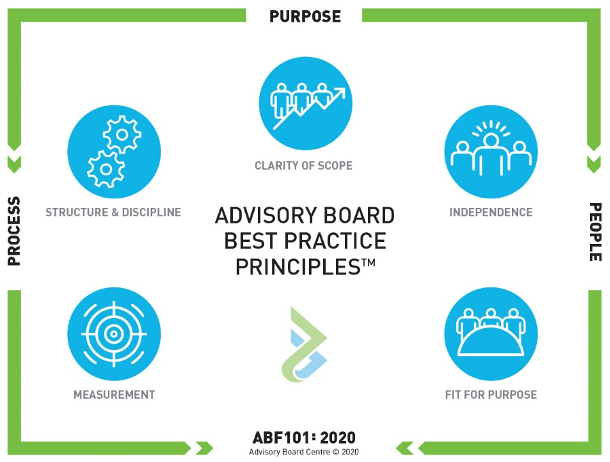 Distinctive to a 'Standard', the ABF101 Advisory Board Best Practice Framework has been created as a guide only. This means it serves as a recommended approach and should be seen as a reference point to spark important conversations, instead of a must-follow step-by-step process.
The ABF101 Framework is not about red tape, regulations and procedures; it is about flexibility, enablement and harnessing the powerhouse of expertise to make things happen.
Inherently it is purposeful, flexible and agile just like the organisations served by Advisory Boards.
The ABF101 Advisory Board Best Practice Framework has been endorsed by an independent Joint Technical Committee representing the Advisory sector with participation from start-ups through to corporate and institutional representatives.
The Advisory Board Centre has made the ABF101 Framework and supporting Net Benefit information freely available here.
This article was written in partnership with The Advisory Board Centre.
Never miss a news update, subscribe here. Follow us on Facebook, LinkedIn, Instagram and Twitter.
Business News Australia
Get our daily business news
Sign up to our free email news updates.
Help us deliver quality journalism to you.
As a free and independent news site providing daily updates
during a period of unprecedented challenges for businesses everywhere
we call on your support