Digital alternative-investment platform VentureCrowd has bolstered its warchest through a $10 million a capital raising that puts the group on track for international expansion later this year.
The Brisbane-based group, founded in 2013 by former PwC partner Steve Maarbani, has been buoyed by a doubling of volumes raised for start-ups so far this financial year.
Founded on the principal of 'democratising' investor access to high-growth ventures, Maarbani says VentureCrowd is providing access to high-growth assets for a new generation of Millennial and Gen Z investors looking to capitalise on purpose-driven projects.
"As a purpose-driven organisation, we look for and like to support companies that are addressing one or more of the United Nations sustainable development goals," Maarbani tells Business News Australia.
"New and creative solutions in health, agriculture, education, renewable energy and sustainability are what the world needs at the moment and VentureCrowd believes that investments tackling these challenges should be available to all investors to deepen the available pool of capital and ensure more great projects can obtain the funding they need to succeed."
VentureCrowd has raised more than $180 million since inception but it has picked up the pace in the past two years with a 63 per cent increase in capital raisings to $32 million in FY21.
"We're on track for 100 per cent growth this financial year after notching up more than $30 million for the six months to December last year," says Maarbani.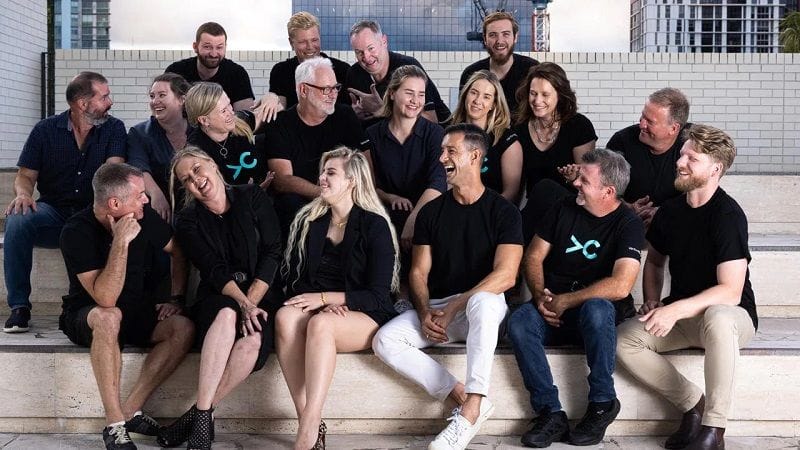 Among the start-ups accessing the VentureCrowd platform are Nexba, Expert 360, 4DMedical (ASX: 4DX), Jayride (ASX: JAY), Judo Capital (ASX: JDO), Perkii, Gamurs, Thinxstra, Zookal and Unyoked.
VentureCrowd used its own platform to raise $3.9 million of its latest $10 million raise - a move that has attracted a number of new investors for the group.
Maarbani is now planning to establish a foothold across the Asia Pacific, starting in Singapore.
"There are a number of alternative asset platforms operating digitally in the UK and North America but not so much for multi-asset classes in Australia and the Asia-Pacific region," he says.
"We have plans to be in Singapore this year and the aim is to transform VentureCrowd into an Asia-Pacific alternative assets platform."
Helping to drive that growth will be Chris Wilson, the co-founder of ANZ Bank's (ASX: ANZ) venture-capital fund ANZi, now known as 1835i. Wilson, a former Deloitte Digital senior partner, is VentureCrowd's new head of ventures.
Maarbani says the appointment highlights the rising profile of digital venture capital as a key area of growth.
"Chris is a guy with a lot of experience in venture capital and he sees the opportunity for us to not only expand and deepen the pool of capital for startups, but also involve more people in the process along the way," says Maarbani.
The digitisation of venture capital in Australia has been driven by recent federal legislation that allows retail investors to back high growth start-up opportunities. Maarbani established VentureCrowd after working with high-net-worth angel groups and syndicate investors at PwC.
"The access to venture capital as an asset class and the ability to invest in high growth companies that could potentially change the world was always restricted to the super rich and highly connected venture capital funds and angel investors," he says.
"Digitisation has changed that, making it available to everyone."
For start-ups, Maarbani says VentureCrowd is a quick and efficient option to raise capital when needed.
"You might be between seed and a Series-A capital raise, but you just need another $500,000 to refine your product to get to that Series-A point. That's a very difficult position for a start-up to be in.
"We're creating much more flexibility for companies than they ever had before. I think a lot of companies in the past have failed not because they had a terrible idea and were badly run, but because in the early stages of growth capital is so inflexible."
Meanwhile, VentureCrowd has firmed up a joint-venture with Gold Coast-based HomeCorp Property Group, which is majority owned by the Toyota Motor Corporation.
VentureCrowd will use HomeCorp, a company founded and led by former Gold Coast Young Entrepreneur of the Year Ron Bakir, as the preferred builder for residential development projects.
"We have a full team working on residential developments in Sydney and Brisbane, identifying broadacre sites," says Maarbani.
"This allows us to offer more financial products into a diverse range of asset classes, and property is one.
"Building is not a core business, but we wanted to make sure the building component of these developments was rock solid. We had a long-standing working relationship with HomeCorp and now we have a formal joint venture where they are our exclusive builder of any project that suits HomeCorp's residential build model."
Get our daily business news
Sign up to our free email news updates.