Sydney-based video testimonial software provider Vouch has set its sights on rapid staff recruitment after raising $8 million in a seed funding round led by US-based VC Stage 2 Capital and Australian firm OIF Ventures.
The oversubscribed round also saw backing from angel investors such as Twitter global product lead Oji Udezue and Archangel Ventures partner Rayn Ong, with the funds to go toward the development of new features and doubling the company's headcount of 20 both at home and in the US over the next year.
Vouch co-founder and CEO Gary Zurnamer - a former sales executive at design software giant Canva - said the platform "has seen exponential growth over the past year".
"Thousands of teams, across 82 countries have used it to create videos that have been watched more than 100,000 times," said Zurnamer, who built the tech platform alongside David Stirk.
"We've focused on building a great product that has been tested and validated on a global stage.
"Now, with this support and funding, Vouch is well-positioned to lead the video software category, reaching even more teams and giving them an easy way to capture and share video, whatever their use case."
Founded in 2021, Vouch lets users send a single link to one or many respondents for the purposes of recording a testimonial or review. Users can then edit, download, embed or share the video responses – which come with automatically-generated transcriptions - with others.
The interface can also be integrated into existing workplace software programs such as Slack, Microsoft Teams, Notion and Hubspo to compile customer testimonials, recruitment videos, and internal communication.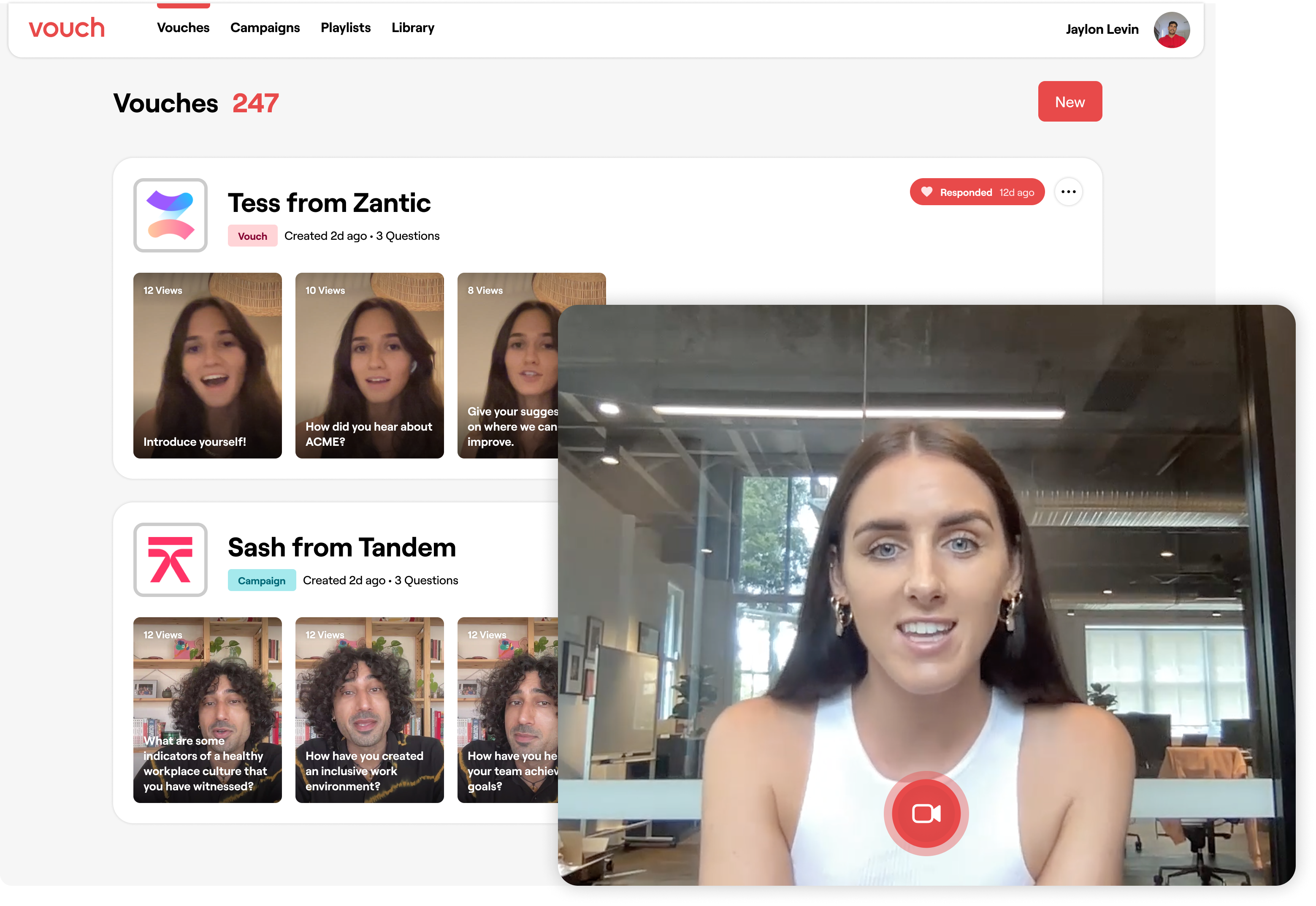 While the platform is available free of charge, a paid subscription tier launched earlier this year allowing users to sign up for $99 per month or $948 per year to unlock brand customisation tools and unlimited videos. Since launching its paid service, Vouch says its revenue has grown 100 per cent month-on-month.
Approximately 75 per cent of the platform's users are outside of Australia, with the largest proportion (62 per cent) based in the US - which includes employees from Atlassian, Dropbox, Canva and Culture Amp.
"Video provides significant ROI, but while demand continues to grow across all business functions, production methods remain slow and expensive," OIF Ventures Laurence Schwartz said.
"Vouch is the first team to address this problem and their customers are constantly discovering new use cases.
"Vouch's execution of this product-led growth strategy has been brilliant and we're proud to be partnering with Gary, David and the entire team on this mission."
Stage 2 Capital managing director Jay Po added "Vouch makes it incredibly easy for anyone to collect video that's structured and perfectly on-point."
"This simplicity and versatility has helped it spread like wildfire within organisations and throughout different industries.
"We're excited to support this next phase of growth as Vouch becomes an essential tool for any business that needs compelling video at scale."
Get our daily business news
Sign up to our free email news updates.