What does the future hold for coworking spaces in light of all the latest WeWork drama? Read on to find out.
The rollercoaster saga of WeWork has cast its brightest spotlight on startup culture and the billions of dollars of venture capital being pumped into companies to ramp up their revenue and secure a sky-high valuation.
In the midst of the conversation, though, it's worth taking a look at the WeWork debacle's impact on the idea of coworking spaces, and especially on their viability as a business model.
So, in light of all the WeWork drama, what is the future of the cowork space? First, let's have a brief recap of what's happened with WeWork so far.
What happened to WeWork?
Like all majestic unicorns, WeWork galloped onto the startup scene with extravagant disruption. Everyone had high expectations from this company after it raised an incredible $4.4 billion in only three months and earned the title of sixth most valuable startup in the world.
The idea of coworking spaces was nothing new, but while the industry had traditionally been the domain of real estate firms, WeWork positioned itself as a tech startup. Or at least that was its narrative.
Moreover, WeWork seemed to be hitting all the right numbers, with its highly publicized revenue figures dwarfing those of its competitors: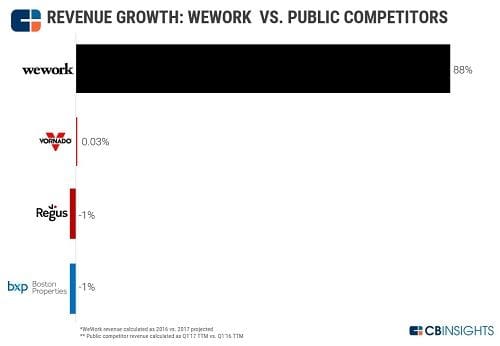 Figure 1: WeWork Revenue Growth - cbinsights.com
After multiple successful funding rounds and a love affair with much of the startup media, WeWork was eventually handed a valuation of $47 billion. But with such outstanding figures and supportive press releases, what could have gone wrong?
Let's start with the numbers.
To say that WeWork wasn't completely transparent with its figures is a bit of an understatement. That hockey stick revenue growth masked the fact that the company kept losing money and those losses were accelerating.
- In 2016 WeWork generated $US436 million in revenue, but lost $US429 million.
- In 2017 WeWork generated $US886 million in revenue, but lost $US890 million.
- In 2018 WeWork generated $US1.6 billion in revenue, but lost $US1.6 billion.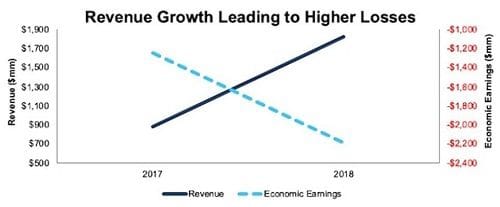 Figure 2: WeWork Revenue vs Economic Earnings - Forbes.com
Here's a transparent look at their performance in comparison to its Belgian competitor IWG.

Figure 3: WeWork financials in comparison to Belgian competitor IWG - Forbes.com
The combination of WeWork's inability to make a profit, its indistinct business model and questionable corporate behaviour eventually led to its rockstar CEO Adam Neumann stepping down, and an embarrassing withdrawal of its IPO filing.
WeWork failed to deliver on its promise of shaking up the coworking scene. So while WeWork struggles to rebuild from its ruins, where does that leave coworking spaces as an industry?
What entrepreneurs want in a coworking Space
First, it's important to understand what entrepreneurs want from a coworking space. These are the factors most startup teams are looking for:
Location
The proximity of an office to business operations is an incredibly important factor. Minimising the waste of excess travel will keep your operations lean and your business productive.
Access flexibility
A coworking space should always be available. Entrepreneurs are always on call, often working at very unaccommodating hours.
Scalability
A coworking space should readily scale alongside your business. There should always be real estate available for you to expand your operations with minimal processing delays.
Trial period
Any reputable coworking space should offer a trial period before locking in tenants. Offering a trial period is evidence of a coworking space that's confident of its value. They know most prospective tenants will fall in love with the facility and sign up. Be wary of coworking spaces that push you to immediately sign a contract.
Now, with WeWork's currently tenuous position, you couldn't be blamed as a startup founder for thinking twice about signing a lease with the company. But if WeWork is off the table for you, what are your options and how do they measure up to these metrics?
WeWork alternatives
The good news is that WeWork isn't the only viable coworking option. The industry is booming and there are plenty of alternatives. In New York City alone, a new coworking space opens every 7.5 days.
Here's a list of some of WeWork's notable rivals:
Regus
Regus is one of five children companies of the International Workplace Group (IWG). Regus is often the coworking space of choice for new businesses that are seeking more of a corporate appeal rather than a funky startup setup.
Spaces
Another descendant of parent company IWG, Spaces is IWG's most innovative coworking option aimed primarily at contemporary startups.
Spacious
Spacious offers unlimited access to all of their venues via the one membership. So if you're traveling to a business meeting, or desperately need to get some work done while out and about, you can book a nearby room via their app.
The Farm
The Farm is a New York-based coworking space that hosts a community of innovators and entrepreneurs. This coworking space is an actual farmhouse that was transported piece by piece from Southern Missouri.
NeueHouse
Newhouse has a coworking space in New York and two in Los Angeles. It bills itself as an ultra-modern workplace, specifically designed to cultivate inventiveness amongst creatives.
How WeWork alternatives stack up on price
Here's how WeWork's rivals compare on price. To create a point of comparison, we've chosen New York as a location.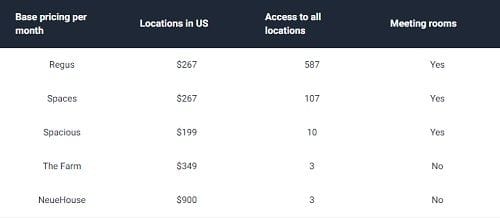 The pricing outlined is the base pricing for an individual. It increases with each additional coworker and any amenity upgrades.
Regus, Spaces and Spaces offer flexible members options which give you access to any of their offices from the single subscription. For The Farm and Neuehouse, a membership only grants you access to your particular office.
Scaling with a coworking space
Scaling is a very difficult endeavour, especially in a coworking space arrangement. Leasing contracts often box you into your current location and prevent you from scaling your operations as quickly as you'd like.
Here are some models that try to solve the problem of scaling in a coworking space.
Core + Flex model
This coworking model is comprised of both an office space and a flexible workspace in the same building. The office is leased for the core business operations team while the flexible workstations accommodate staffing volatility.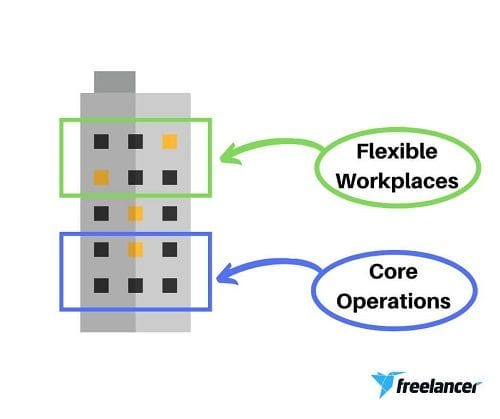 As each subsequent team is permanently established they can be transitioned from a flexible workplace to a permanent office, adding to the core operations. The Core + Flex model allows a business to scale steadily without the burden of leasing an entire office space to house a small, growing team.
Neural network model
This scaling model is similar to the Core + Flex model, but instead of scaling upwards, scaling operations are lateral.
The neural network model consists of a core operations office that is virtually networked to all of its satellite flexible workplaces. The flexible workplaces provide the business scaling bandwidth availability at all times.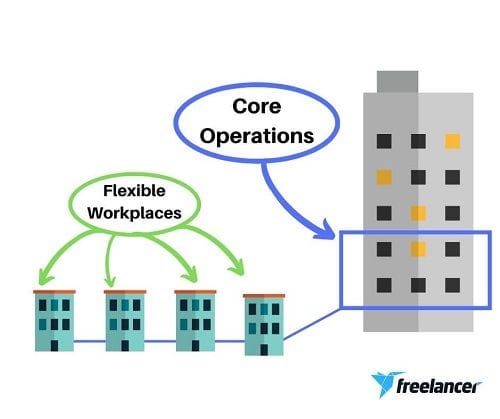 This arrangement allows you to increase the footprint of your operations as you scale to cover more ground, which is an attractive setup for location-based operations.
Each of the satellite coworking stations could either be comprised of a single hot desk or flexible office arrangement, depending on the size of the team.
Limitations of conventional flexible workspace scaling
The problem with these conventional workplace models is that they don't effectively overcome the difficulties of scaling. In fact, there are a few serious limitations to consider before committing to arrangements like these.
Leasing contracts
The most prominent limitation is leasing contracts. Even if you just sign a leasing contract for your core operations, you're locked in for the duration of your term.
Some office spaces offer discounts for long-term leases, but that just prolongs your binding commitment. You can't predict the state of your business in 24, or even 12 months. What if your core operations were to scale by 2x, 5x or even 10x?
If this prospect compels you to sign for a shorter term, you then risk being muscled out of your location by another business that signs a long-term lease as your arrangement expires.
You can never be guaranteed a flexible workplace availability
These scaling models are based on the assumption that your flexible workplaces will always have the availability to house your scaling operations, but this is wishful thinking.
The demand for cowork spaces is growing at an alarming rate. Limited availability during your delicate scaling season could force you to unwillingly adopt the neural network scaling model with distant satellite coworking locations.
Burdensome overheads
Unfortunately, not all scaling operations are carried out to completion. Some circumstances require you to dial back your scaling efforts and pivot to a different direction. In any of the above conventional setups, you can't instantly put the brakes on a scaling operation.
Flexible workplaces have a minimum of one month rental, so you're obligated to pay for the entire month even if you only need the space for a couple of weeks. Multiple failed scaling attempts could be a catastrophic financial burden on struggling startups.
To combat these issues, a coworking solution needs to be developed that's cost effective while giving business owners complete control over their scaling efforts.
The future of the coworking space: The virtual workspace
Another option if you want the low overheads of a coworking space along with more flexibility is creating a virtual workspace that combines a coworking space for your core team with a virtual office staffed by freelancers who are hired for specific projects in specific timeframes. You can manage this using Freelancer's Technical Co-pilot service.
A Technical Co-pilot is a dedicated project manager who works alongside you remotely and sources all of the relevant freelancer talent you need to complete each of your projects. Simply outline your requirements and deadline and your Technical Copilot will manage all freelancer staff to ensure your project is delivered in a timely manner.
This virtual model is not only applicable to short term projects. You can establish entire freelancer teams that are completely managed by Technical Co-pilots. This allows you to scale your team for specific projects without the need to hire additional full-time workers or find office space to house them.
This article originally appeared on Freelancer.com. Click here to find out more about how technical co-pilots work.
Never miss a news update, subscribe here. Follow us on Facebook, LinkedIn, Instagram and Twitter.
Business News Australia
Get our daily business news
Sign up to our free email news updates.