Brisbane-based lending and payments fintech WLTH has announced the launch of a Visa debit card made entirely out of recycled plastic from the ocean - a world first.
Created in collaboration with conservation organisation Parley for the Oceans, the debit card is a continuation of WLTH's promotion of environmental, social and government (ESG) principles within the business.
Having first connected with Parley around two years ago, WLTH co-founders Drew and Brodie Haupt told Business News Australia it was always their intention to make their debit cards out of recycled plastic recovered from our oceans - Parley's network just made it happen.
Manufactured by Giesecke+Devrient, 45,000 eco-friendly Visa cards have been created from intercepted and up-cycled marine plastic waste and are exclusively available to WLTH's Australian customers.
The initiative is pro-environmental and worryingly symbolic; a recent study published in the Journal of Hazardous Materials found that human beings ingest as much as a credit card-worth of micro-plastics per week - in our food, the air we breathe, and the water we drink.
"For us, this card is not only the solution, but it's also a symbolic strategy," said WLTH CEO and co-founder Brodie Haupt, who alongside his brother Drew was a finalist in the 2022 Brisbane Young Entrepreneur Awards.
"We have a 100 per cent eco and sustainable card - from the packaging, to the envelope, to even the glues being plastic-free, and of course to the card itself and the design.
"Our customers are becoming more socially conscious and we are empowering them to be more involved in protecting the environment."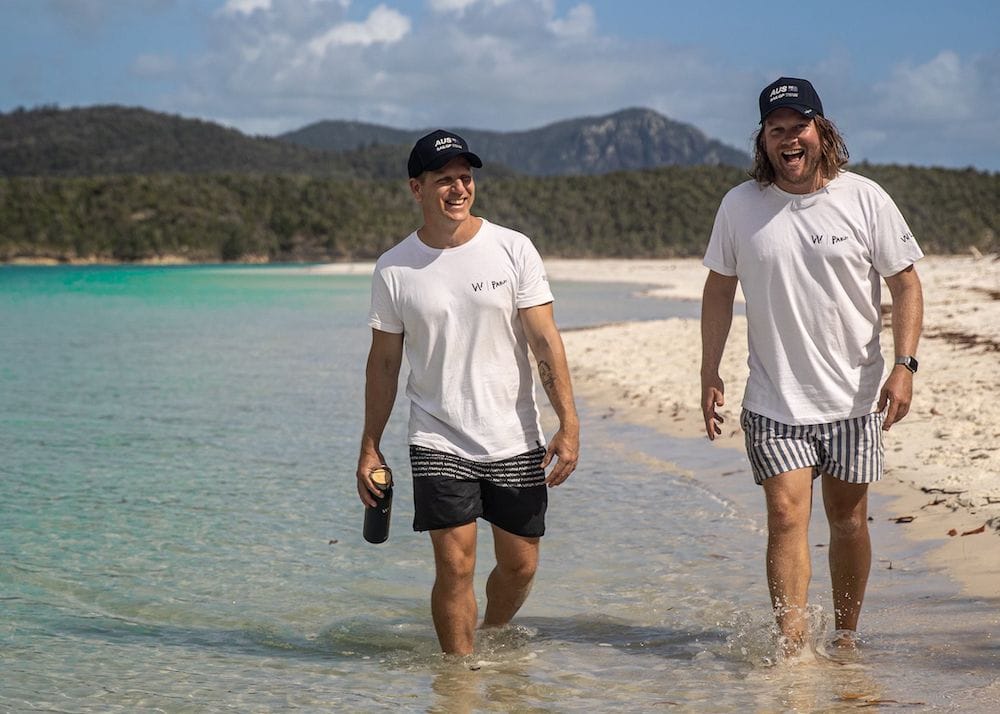 The co-founder told Business News Australia the partnership with Parley was born way back during the ideation stage of building WLTH.
"When we were looking at putting the business plan for WLTH together, myself and Drew wanted to ensure that we had a really strong purpose-led element to the business, and building that DNA in from the ground up," he said.
"And it's taken us just over two and a bit years to get the cards into the market - so it's pretty awesome to see them in the flesh."
Brodie emphasised that the partnership with Parley goes deeper than just utilising the organisation to access recycled ocean plastic; the WLTH team regularly joins Parley on clean-ups of the Australian coastline.
In fact, the partnership between the two companies sees Parley clean up 50sqm of coastline for every loan settled by WLTH - giving the fintech more impetus to expand and customers reason to sign with the scaleup.
Brodie said this had created a strong, purpose-led culture within WLTH that money can't buy.
"We go out there and do the cleanups, recover plastic and educate our community of customers and finance brokers," Brodie said.
"As a startup, it's hard to attract talent. But when you have such a strong purpose, people can relate - particularly in the Australian market being that we're a coastline-based population."
The company's push to be at the forefront of purpose-led profitability comes amid a 'greenwashing' crackdown from the Australian Competition and Consumer Commission (ACCC), which is targeting business making spurious environmental claims.
However, it was the Australian Securities and Investments Commission (ASIC) that has actually instigated action against a company for allegedly 'greenwashing', issuing four infringement notices totalling $53,280 to TLOU Energy Limited (ASX: TOU) last Thursday over concerns about alleged false or misleading statements made to the ASX.
This was the result of TLOU claiming that electricity it produced would be carbon neutral, that it had environmental approval and the capability to generate certain amounts of electricity from solar power, that its gas-to-power project would be 'low emissions', and that it was as concerned with producing 'clean energy' as it was with developing its gas project.
"As entities promote sustainability and green practices as part of their value proposition, they must ensure they can support those statements and have a reasonable basis for doing so," ASIC deputy chair Sarah Court said.
Brodie said that greenwashing was, unfortunately, rife within the finance sector.
"There's one major bank who has a TV ad at the moment of someone riding a whale - it's just ridiculous," he said.
"There's also a few non-bank lenders out there that have 'green loans' which don't actually do anything - they're just named 'green' to try and blatantly greenwash them."
The entrepreneur said customers were savvy enough to pick up on greenwashing, and that they're in fact drawn to companies that actually are making a difference.
"We have seen quite a big shift over the last 12 months where consumers are very sensitive to the organisations they partner with - particularly if they're looking for someone that creates a positive impact," Brodie said.
"It's an expensive component to our organisation, but when you build it into your business model from the ground up, you can build a business model around it which enables you to do these things at a pretty deep level.
"We believe that consumers are quite clued on, and they can smell a rat. They're pretty savvy in terms of understanding and navigating through the weeds, and finding out who's who and what they represent and what impact which organisation is creating."
As for some advice he would give to business leaders looking to incorporate ESG initiatives into their company, but are worried about being called out for greenwashing, Brodie said it's all down to who you partner with.
"Just partner with organisations that are doing the right thing," the co-founder said.
"Rather than thinking of it as a capital cost or a marketing cost, think about what it is that your company represents. It doesn't have to be ocean plastic pollution, or about planting a tree - what is something that resonates with your organisation and within the organisation?
"For us, our biggest ambassadors and advocates are our team members, and that then flows into our stakeholders and customer base, and then they become the ambassadors and awareness piece for us."
Get our daily business news
Sign up to our free email news updates.