31. Paley Ho (34)
Unios
Perth
After recently opening up a new office and a flagship showroom in Ho Chi Minh City in Vietnam, Unios is "making ripples" in the APAC region where it also has offices in South Korea and China.
But founder Paley Ho describes the lighting design and manufacturing company's international expansion as "baby steps", as the main focus continues to be Australia and New Zealand.
To bolster its potential here, Perth-based Unios moved to a new headquarters in 2020 with a purpose-built showroom.
"We've developed a purpose-built showroom that is essentially our own playground for light where we try to display lighting best practice," says Ho.
"It's more of an interactive space, so visitors can come - consultants, architects, interior designers, builders, contractors - to learn about lighting.
"We do a lot around that with workshops, and it's now given us the platform to be able to do that and share that with the design community."
The company has also made investments over almost two years developing software to streamline the drafting process, reducing what could ordinarily take an hour down to around 45 seconds.
---

32. Beau Savage (33) & Elliot Hayes (27)
Byron Bay
While working for solar energy retailers, Elliot Hayes and Beau Savage found a distinct lack of customer service with priority given to selling systems 'as cheaply and competitively as you can'.
The pair did however see the savings that could be achieved for solar power users, and decided a different tack could be taken with 24/7 on-shore support and a greater emphasis on technical assistance.
"We immediately left our jobs and moved to Byron Bay where we signed a lease on a warehouse, where we slept and worked," says Hayes.
"We had saved up for one pallet of solar panels and did everything ourselves from designing our logo to hitting the phones."
That was in 2016. Today they have more than 15,000 customers around the country, including in Tasmania where they've just expanded recently.
"We're growing at a steady pace. When we first started we kind of hit it with a bang, opening up three offices within a month," says Hayes.
The group's most popular plan lets customers pay for their solar systems out of the energy that's generated, but now Smart Energy is moving into a new market segment as it has recently been granted an energy retail licence.
Following this milestone, the group now has the aim to give customers "100 per cent renewable energy 100 per cent of the time", which is achieved through offsets, allowing people who either rent or don't have the correct roof for solar to still get involved in the renewables revolution.
---

33. Adam Brimo (33)
OpenLearning, Mijura
Sydney
With technology that evolved from UNSW's School of Computer Science and Engineering, OpenLearning (ASX: OLL) was ahead of the curve in remote education, delivering courses in collaboration with some of the leading universities in Australia and Southeast Asia.
"OpenLearning enables education providers to deliver world-class online education on a mass scale to over 2.5 million students across 160 countries," says Adam Brimo, who co-founded the company in 2012 with UNSW Professor Richard Buckland and David Collien.
"Its courses include MOOCs (massive open online courses), blended and accredited courses in higher education, professional development, VET (vocational education and training) and government and corporate learning."
OpenLearning listed on the Australian Stock Exchange in December, just months before the COVID-19 pandemic hit, but the company has largely benefited from the environment with its shares up significantly along with growing revenue.
"The COVID-19 pandemic has accelerated the move towards online learning, which has provided further opportunities for growth at OpenLearning," says Brimo.
"In March 2020, schools and educational institutions were scrambling to move all classes and learning activities online."
In that month, OLL signed an agreement with global not-for-profit High Resolves that gave the company access to high school students throughout Australia and North America.
"As the pandemic progressed, and more and more people were working from home, OpenLearning decided to expand into professional development to assist companies and their staff to continue to upskill while working away from the office," he says.
"In July 2020, OpenLearning signed multiple agreements with Open Universities Australia to deliver micro-credentials from Australian universities (OUA) to be promoted on OUA's marketplace."
In FY21 to date, the company has signed a five-year licence agreement with UNSW Global to deliver an online transition program for international students, supported by an almost $6 million capital raising to help with the roll-out as well as other projects in the works and potential acquisition opportunities.
---

34. Brett Neil Saunders (39)
Hiflow, Surgical Biofix, Saunders Development Group, Savy Commercial
Brisbane
Over 15 years Brett Neil Saunders has built a national HVAC (heating, ventilation and air conditioning) outfit that services some of the country's leading Tier 1 property owners such as Westpac, GPT and Mirvac.
Milestones in 2020 for Hiflow included winning the contract for Optus' Sydney headquarters, as well as a maintenance deal all service station 7-Eleven stores in NSW and QLD.
COVID-19 naturally had a negative impact on the business, but Saunders notes the business model rapidly adapted to streamline processes and reduce operational costs.
In addition, Hiflow expanded into coronavirus risk mitigation products, and undertook one of Australia's first COVID decontaminations in a Melbourne CBD building.
Hiflow is now at the point where with the right management team in place Saunders is able to do more strategic planning and pursue new projects, one of them being the biomedical company Surgical BioFix which provides allografts for treating wounds and surgical applications.
Millions of dollars have been pumped into developing Surgical BioFix's Brisbane facility, which is awaiting approval from the Therapeutic Goods Administration (TGA) ahead of a planned launch in 2021.
---

35. Brad Illich (37)
Newbook & Xtreme
Gold Coast
COVID-19 may have all but decimated the tourism industry in which Newbook and Xtreme operate, however a hard push into web design and maintenance services put Brad Illich's companies back on top in 2020.
NewBook is a cloud-based tourism technology platform offering a suite of software, hardware, and services to accommodation providers worldwide, while Xtreme is a B2B IT business providing IT and website services to tourism clients.
Before the whole world changed in February, Newbook had secured a landmark partnership in the USA with the National Association of RV Parks and Campgrounds, a deal which grew its client base by a staggering 780 per cent in the most recent financial year.
When the tourism industry was put on hold around the world, Brad saw more than 300 enquiries from different clients looking to pause their subscriptions; a figure that might have fuelled panic in even the most seasoned entrepreneur.
Illich instead took the calm and calculated approach.
"We saw a loss in revenue from booking fees as our clients went into lockdown," he explains
"However, we also quickly noticed a trend towards business-betterment, with our clients choosing to invest their downtime in website updates and new tools to boost their business into the future and prepare for tourism's eventual return."
Offering web maintenance services turned out to be a very smart survival move for the companies, that are now almost struggling to keep up with demand as the industry recovers at a lightning pace. In the first five months of FY21 alone, NewBook achieved the same profit as the entirety of FY20.
---

36. Troy Douglas (31) & Drew Bilbe (34)
Nexba
Sydney
In 2020 Nexba is officially Australia's number one sugar-free beverage brand.
Founded by Troy Douglas and Drew Bilbe, Nexba refused to let pandemic woes get in their way and expanded into the Korean market.
This is hot on the heels of their push into the UK, where they've since expanded Nexba's ranging with Sainsbury's and teamed up with new retail partners WHSmith and Booths.
The pair also launched six new product ranges this year, bringing their total stable of drinks to 15, including first-to-market products like Probiotic Soda and Apple Cider Vinegar Soda.
"This year we've continued to live our values, be naturally brave & continue to make an EPIC impact," says Nexba founders Drew and Troy.
"By building awareness that NEXBA Naturally Sugar Free options exist we can increase the removal of sugar & artificial consumption from Australian's diets."
---

37. Amal Wakim (27) & Jade Spooner (28)
Equalution
Sydney
Underscored by the message of enjoying 80 per cent whole food and 20 per cent "soul food", Equalution is a body transformation app that guides users' nutrition programs towards their goals.
Founded in 2014 by fitness models Jade Spooner and Amal Wakim, who both had quit their marketing jobs at Google and had been through their own dietary revolutions, Equalution is a 'pocket nutrition coach' with a loyal following.
In the three weeks in the immediate aftermath of the COVID-19 outbreak, the revenue stream from that carefully developed following was under threat though, with revenues falling 49 per cent.
"I think our scariest night was when we woke up and we had a couple of hundred people cancel or pause their subscriptions overnight, just out of pressing the panic button," says Spooner.
"So Amal and I came together and we utilised what our business is best at, and that is igniting hope, bringing people together; focusing on health and fitness no matter what the climate is at the time."
It was those values, a sense of community, and the app's use as an outlet during the pandemic that Spooner credits with boosting not only the company's financials, but also its social media following.
"We also launched a spring into summer challenge, so that people would feel more confident in their own skin when the warmer weather came, and we have really positive marketing around body image," she says.
Wakim explains the group had to be accommodating in 2020 and really listen to customers, as the app is specific about food brands but panic buying led to some products disappearing from grocery store shelves.
"We just asked our clients to send through a picture of what they had available in their pantry, any frozen goods, what was available in their fridge, and we amended their meal plan to reflect that."
Business has since rebounded and Equalution is now in the process of a rebrand, while also working with Wollongong-headquartered Devika to roll out new tech solutions. The next step will also be to scale up internationally in order to grow its usership outside of Australia which is currently at around 5 per cent.
---

38. Brad Moran (34)
Brisbane
The abrupt shift to e-commerce for retailers around the globe has opened up a golden opportunity for Brad Moran's CitrusAd, which is now reaping the fruits of labour that have been years in the making.
Providing personalised sponsored products and display ads to major international clients ranging from Sainsbury's in the UK to Groupon in the US, the business Moran co-founded with Nick Paech has found unforeseen benefits from the pandemic.
"Short term COVID-19 probably didn't help us, but medium-to-long term it will definitely springboard us further because it's now created a huge urgency for e-commerce," he says.
"With the sudden shift in focus of many retailers channelling resources into their e-commerce offerings, there is a large focus on getting to market as soon as possible with an effective online monetisation solution.
"Many retailers often find that they should stick to what they are good at retailing - this is why a technology solution such as CitrusAd has been able to gain tremendous momentum."
He explains the Software as a Service (SaaS) company is signing on one or two retailers every month, who this year have included major US department stores.
"Traditionally our competitors would go and use their big entertainment budgets, but what happened was during COVID no one was able to do that so it became a playing field leveller," says Moran, a former professional AFL player.
"I think we won a little bit of business during COVID because of that reason, because everything was taken as it was - there was no ability to use your reputation, your business size or your swagger to be able to win deals."
When it comes to sales growth forecasts, Moran expects the traction underway will generate a "sizeable difference" between FY20 and FY21.
"Our grocery network rivals that of Walmart, Amazon and Target in the US. We boast higher total store reach and the strongest media conversion rate by 20 per cent on the nearest competitor," he notes.
"Our [network's] total grocery sales come in at US$159 billion, second only to Walmart. This is a great achievement considering the network launched in 2020 compared to legacy giants that have been operating for years now."
---

39. David J. Morgan (37), Regan Lethbridge (36)
Lemon Tree Music
Melbourne
As the managers of some of Australia's biggest pop music exports, Lemon Tree Music know a hit when they hear it.
David J. Morgan and Regan Lethbridge's stable of Australian artists is pretty impressive, including global breakout star Tones and I, singer-songwriter Tash Sultana, and Melbourne folk rock duo Pierce Brothers.
But sometimes life gives you lemons, so when the COVID-19 pandemic hit the two chose to make lemonade.
For Tones and I the timing couldn't have been worse, after riding high on out-of-this world success in 2019 after her song 'Dance Monkey' reached #1 in more than 24 countries she had to pivot.
Touring plans for Tones and I and the rest of Lemon Tree Music's roster were halted; some plans were rescheduled and others will never see the light of day.
So this year Lemon Tree Music have been focusing on keeping artists active in the studio, engaged on social media, and encouraging a steady flow of new music and content.
"It's the only way to stay sane and get through this," says Morgan.
"We're focused on more alternative income streams including online merchandise and live streams."
While it might still be a while until those big international tours can go ahead, things are looking a bit better here in Australia as COVID-19 restrictions ease.
As a result, you'll likely be seeing an artist from Lemon Tree Music's roster on a stage near you sometime soon.
---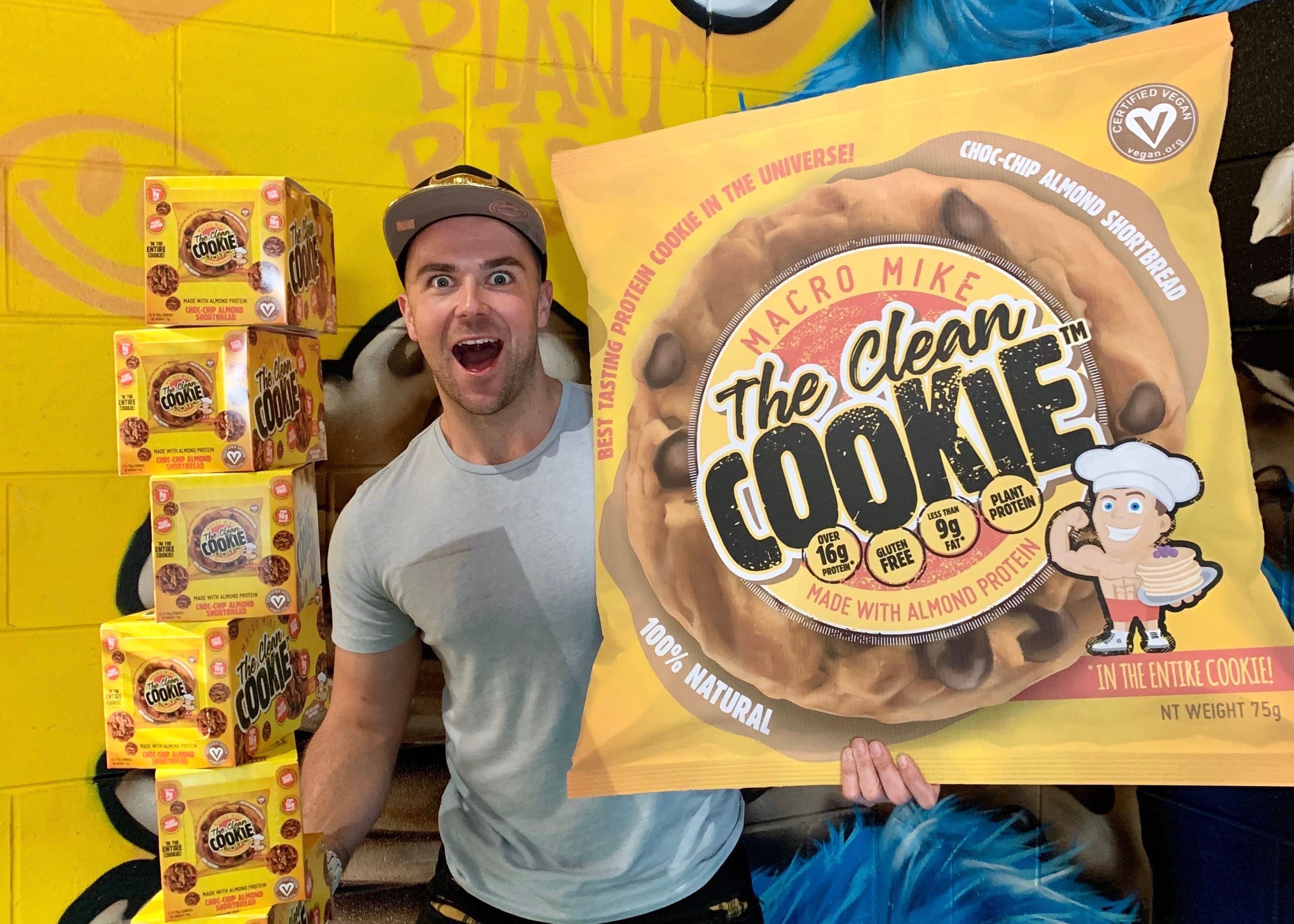 40. Mike Kellett (29)
Gold Coast
It's been a wild year for Macro Mike. The brand almost tripled its business after moving into a new manufacturing location, launching its branded workout hub 'Macro Gym' and increasing its line of products.
Mike Kellett says his protein, healthy treats and supplements empire is stronger than ever, despite the obvious setbacks that impacted most businesses in 2020.
"I like to think that for the last three or four years we've really been pioneering the natural and plant-based health food and nutrition space," says Kellett.
The entrepreneur was particularly proud of the fact his business managed to retain all its staff in 2020.
"I think the realisation that we were supporting 24 families in Australia through one of the most difficult times that they would ever go through in their lives - and they had job security - I think that was probably the biggest sense of achievement for me as a boss and an entrepreneur this year."
While COVID did hit certain aspects of Macro Mike's business, online sales were booming and so was R&D.
"During this period, I've been working tirelessly on new product development as well as ensuring our production and warehouse processes are streamlined," he says.
"When the new gym opens as restrictions ease, we're going to fly out of the gate and hit the ground running full speed in typical Macro Mike fashion."
---
Get our daily business news
Sign up to our free email news updates.